Warning on final salary pensions
BBC News, July 4, 2002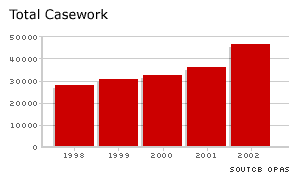 Complaints have increased by 27%, as BBC News Online revealed in April
Pension holders risk losing their life savings if their employer goes bust, the pensions advisory service has warned.
Final salary pension schemes are only as good as your employer is


Malcolm McLean, Opas
In one case highlighted, a saver lost most of his 38 years of pension contributions when his company went bust.
In its annual report, the pensions advisory service, known as Opas, said inadequate rules were failing to protect members when schemes were wound up or the employer went bust.
Final salary schemes are commonly seen as the most generous and most secure type of pension.
Unlike money purchase schemes, salary-related pensions are supposed to guarantee an income in retirement.
Opas is now calling for better legislation and improved funding requirements to prevent similar problems arising in the future.
Only as good as employer
Money purchase schemes are normally seen as more risky schemes, as individuals must shoulder all the investment risk themselves.
In this sense, they are seen as the poor relation of final salary schemes.
But Opas chief executive Malcolm McLean, told BBC News Online that people should remember that final salary pension schemes were "only as good as your employer is".
"The employer has got to be there and solvent."
In some cases, people would have been better off in a money purchase scheme, he said.
"It does temper the notion that final salary schemes are always better than money purchase schemes," Mr McLean said.
Main problems
The report highlights two main problems:
Insolvency: If a company goes bust, existing pensioners, including those who have taken early retirement, get priority. The fund is divided up and those who have not yet retired, even if they are not long off retirement or have delayed taking their pension, can be left with nothing. Opas is recommending a change to address this issue.
Voluntary wind-ups: When the employer is solvent but chooses unilaterally to close down the scheme for other reasons, full accrued pension rights do not have to be met - pensions are calculated on the basis of a "transfer value" which is likely to secure only 70-80% of the pension actually earned by the member up to the date of wind-up. Opas is calling for legislation to require the scheme to meet the pension in full.
Independent trustees
Opas is also calling for independent trustees to be licensed.
What is an independent trustee?
Someone who is brought into administer the pension scheme. They are appointed by the liquidator.
When a company goes into receivership, independent trustees are appointed by the liquidator to administer the pension scheme, but there are few checks on their work or conduct.
In one case reported to Opas, fees paid to trustees were £21,000 a year before the company folded.
Seven years on, the scheme is still not closed and the trustees are costing £150,000 a year.
Opas said that the poor checks on independent trustees could potentially create fraud and a "scope for the cowboy to come in."
Mr McLean said: "In theory, anyone can set themselves up as an independent trustee without any particular qualification or seeking authority from an official body."
---
FAIR USE NOTICE: This page contains copyrighted material the use of which has not been specifically authorized by the copyright owner. Global Action on Aging distributes this material without profit to those who have expressed a prior interest in receiving the included information for research and educational purposes. We believe this constitutes a fair use of any such copyrighted material as provided for in 17 U.S.C § 107. If you wish to use copyrighted material from this site for purposes of your own that go beyond fair use, you must obtain permission from the copyright owner.