Discussion with Chiquita Smith

Global Action on Aging

March 24, 2008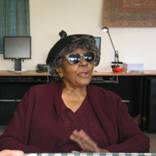 Chiquita Smith
Chiquita Smith, an African-American woman who lives in Brooklyn, is no stranger to social struggles. As a member of the United Methodist Church, she has made it a personal task to protect the rights of political minorities, such as women, racial/ethnic minorities and blue collar workers. In the 70s, she helped organized workers into the New York City Day Care union. Later, she mobilized a series of hard-hitting boycotts, particularly to support the men, women and children who picked grapes and other produce in the US. Growers often subjected these farmers to pesticide poisoning, subpar living conditions and low wages. Thanks to the national boycott that was undergirded by the US religious communities, the workers won their struggle for a union and better working conditions.

Though now blind due to diabetes, Ms. Smith has taken up a new fight; she has thrown up her fists to defend the rights of older people, particularly those in nursing homes. Ms. Smith says that she is "shocked" at the terrible situation many patients face in nursing homes. Based on personal experience, she believes that a large majority of nursing homes simply are "warehouses" for older persons.

According to Ms. Smith, older people have the right to receive Social Security benefits as well as a decent pension, both making it financially possible to live in nursing homes. But she warns that the living conditions in nursing homes are frequently terrible.

Ms. Smith said, "You see these elders sitting in a row in a big room. No one is communicating with each other. The TV is blasting but no one is watching it."

Nursing home staff often fail to offer social activities that could enable social connections between their residents. Residents often lack physical care. Many of Ms. Smith's friends who live in these homes suffer from bedsores, due to lack of care from the nursing staff.

Ms. Smith believes that nursing home practices can often infringe on human rights. Basic needs like healthy food choices and necessary care are thrown aside. Nursing staffs also can overlook fundamental US political rights like voting. Such nursing homes never mention elections nor respect the residents' right to participate, effectively preventing them from exercising their political rights. These older people have no voice in the society.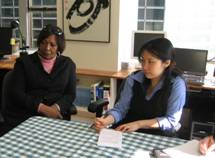 Pauline Roach & Vivian Lau
Ms. Smith's aide, Pauline Roach, raised another pressing issue. Lack of appropriate numbers of staff persons affects most nursing homes. Many aide workers have too many patients to care for, preventing them from giving proper care to all their patients.

But activists and persons of good will can work for change—and get it! Ms. Smith urges ordinary persons—in families, religious organizations, civic groups, as well as government officials— to check what is going on in nursing homes. It is imperative to monitor nursing homes on a more regular basis. Inspectors should also know what specific violations that they are checking for. Ms. Smith urges both systematic and random checks on nursing homes to observe their regular activities. Ms. Smith believes that citizens should accompany Health Inspectors to assure that they carry out their tasks. Nursing homes can directly solve their problems by hiring enough trained and well-paid staff so that they can give the care that elders need.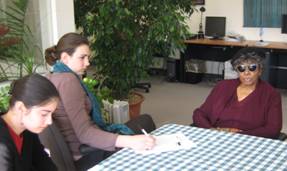 Magali Girod, Clara Dufresne & Chiquita Smith

Ms. Smith believes that there is also a gap between young people and the problems of these elders. Young people are not equipped with enough knowledge about the problems that their elders face. The tragedies in certain nursing homes can not be changed with a simple remedy. Smith says that we need the energy and intelligence of youth to defend the people of earlier generations.
---
More Information on Global Action on Aging

---
Copyright © Global Action on Aging
Terms of Use | Privacy Policy | Contact Us