Pakistan Floods Spreading Fast and Affecting Millions

HelpAge International
August 11, 2010
Pakistan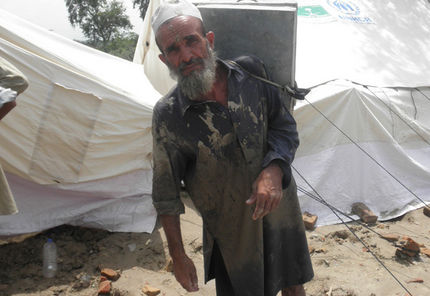 Up to one million older people like Nabi Bakash, 64, could be affected by the floods in Pakistan.
The number of people who have died in the monsoon floods has now risen to 1,600 and estimates of those affected stand at almost 20 million.

Despite mass evacuations, there are fears the death toll will rise as the floods reach the southern province of Sindh and the risk of water-borne disease outbreaks increases.

HelpAge is currently responding to the emergency alongside medical aid agency Merlin.

Almost one million older people may be affected
Asma Akbar, Programme Manager for HelpAge in Pakistan said:

"We know that older people make up approximately 7% of the general population. This means that almost one million older people may be affected by the floods.

"Obviously we are very keen that any official assessments include older people. This will help the humanitarian community respond effectively and urgently to older people's needs."

Targeting the most vulnerable
Our emergency response is currently targeting the most vulnerable older people and their families in Nowshera district in Khyber Pakhtunkhwa. We have staff members attached to Merlin medical teams who will specifically focus on the needs of older people affected.

HelpAge is distributing mobility aids, hearing aids, and emergency health assessment kits. We are also handing out food and emergency household items such as flashlights, bedding and water containers.

"They only have the clothes they are wearing"
Asma adds:

"So many people we have spoken to have told us that they had time to take their most valuable belongings with them – maybe a rug, or their livestock.

"But they only have the clothes they are wearing so we are quickly putting together 2,000 new water resistant bags containing sheets, umbrellas, a shawl, and shalwar kameez. We're also including dates in this package for breaking of the fast, as Ramadan starts this week."

In the UK, the DEC Pakistan Floods Appeal has now reached GBP19 million.