Internships Allow Experience with UN,
Aging Issues

By Linda Bloom*, United Methodist News Service

August 12, 2005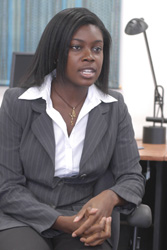 Stephanie Oduro has always been fascinated by the United Nations, but a recent internship with Global Action on Aging gave her a more realistic picture of how the U.N. operates.

Oduro understands, for example, that change rarely happens quickly. "I've learned that diplomacy is very slow and very tedious," she said.

A native of Ghana and resident of Jersey City, N.J., Oduro was finishing a summer internship at Global Action on Aging in August, along with Ruo Fu of Beijing, China, Priya Sharma of London, Ontario, and Cindy Chin, a New Yorker and resident of Queens.

Global Action on Aging was founded in 1994 by Susanne Paul, former staff with the United Methodist Board of Global Ministries. Over the years, the nonprofit organization has received support from various United Methodist agencies, including the board's Women's Division, the Board of Discipleship, and the Board of Higher Education and Ministry.

Under Paul's guidance, Global Action on Aging - which "advocates by, with and for older persons worldwide" - has progressed from a start-up venture to a recognized nongovernmental partner for social justice programs sponsored by the United Nations.

In the past year, the agency has doubled its office space at the United Methodist-owned Church Center for the United Nations, allowing for an expansion of interns and volunteers.

The diverse linguistic abilities of the interns is particularly important as the Global Action on Aging Web site - www.globalaging.org - attracts a growing number of readers from non-English speaking countries.

Besides English, articles can be found in Arabic, Chinese, French, Russian and Spanish. The top 20 areas represented by visitors to the site each week include Mexico, Argentina, Peru, Chile, Taiwan, Singapore, Hong Kong and the Russian Federation.

Among the summer interns, Fu speaks Mandarin; Oduro is fluent in French and Twi, a language of the Ashanti region of Ghana; Sharma speaks an Indian dialect; and Chin is conversant in Cantonese and some Mandarin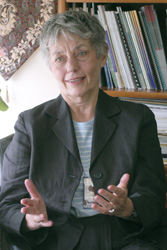 Interns come to Global Action on Aging from various sources. Paul has formed a relationship with a French graduate school, the Institute for Political Studies in Aix-en-Provence, which sends two students as nine-month interns each year. Russian students come through the Muskie Scholars program.

Paul said she also uses a few "virtual interns" who research and post articles from other locations.

A number of interns have learned about the agency
through www.idealist.org, a Web site that lists social justice-related job and internship opportunities.

"If it weren't for that listing, I might not have found it," Sharma said.'

What drew her and the other interns to Global Action on Aging was both the proximity to the United Nations and the promise of a good work experience. "You could really see we'd be getting a lot of responsibility, which is not common for internships," she explained.

The interns develop and update the agency's Web-based programs, which deal with issues such as elder rights, health, pensions, rural aging and older people caught in armed conflict. Using Web research and a variety of U.N. and private sources, the interns post information in those categories.

Sharma, who is pursuing a bachelor's degree in health science and philosophy at the University of Western Ontario, said she particularly has enjoyed the Friday meetings with fellow interns, when they pool their research and design the front page of the Web site.

Fu - who has been studying health care policy and management at the New School in Manhattan and will stay on as an intern in the fall - has appreciated the opportunity to work on health care issues and the affiliation with the United Nations. "It's been a really great learning experience for me," she said.

Although the problems facing the United Nations and the world are frustrating, "you see so many people at the U.N. work so hard to make this a better place," she noted.

Oduro believes the research work she has done during her internship on pensions and Social Security will assist her as she pursues a degree in international relations at the University of Pennsylvania.

Chin, a psychology major at the University of Rochester, wanted to explore the world of nonprofits. She has seen how dedicated nonprofit staffs can be to their work and enjoys the connection that Global Action on Aging has to its members.

Paul credits her interns with building up the Web site over the past five years, to the point where it draws a million hits a month. Interns also may work on special projects, help with general office chores and assist with Global Action on Aging events.'

"Our interns are producing the materials here, day by day, that document the situation of older persons," she said.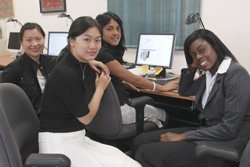 .
Potential interns must have a commitment to social justice, as well as good writing, researching and Internet skills. Paul considers a sense of commitment and a willingness to learn as important as any specialized knowledge about issues of aging.

"Many of the foreign students think about the U.N. as a potential employer," she said. She added that Global Action on Aging often arranges lunches for interns with U.N. employees who share their experiences and give helpful information.

Interns serve a minimum of three months. Although the internships are unpaid, academic credit can sometimes be arranged and some interns are able to raise financial support for living expenses from local community members and institutions. Part-time internships also are available.

Information on internships can be found at www.globalaging.org, the organization's Web site.

*Bloom is a United Methodist News Service news writer based in New York.

News media contact: Linda Bloom, New York, (646) 369-3759 or newsdesk@umcom.org.