Japan Faces Pension Crisis as Number of People Over 100 Passes 36,000
By Justin McCurry, The Guardian
September 12, 2008
Japan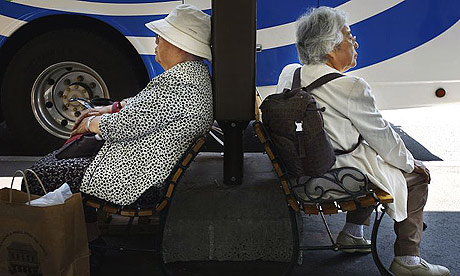 Elderly Japanese people sit on benches to stay out of the
scorching sun as they wait fora bus in Tokyo.

The number of Japanese aged 100 or over has doubled in the past six years to a record high of more than 36,000, according to government figures out today.

While the figure is testament to Japan's traditional low-fat diet and high standards of living and medical care, the country's rapidly growing elderly population and falling birth rate are expected to put huge pressure on its creaking pension system and social services.

By the end of the month 36,276 people will be aged 100 or over, compared with 32,295 at the same time last year, the health and welfare ministry said.
New centenarians receive a congratulatory letter and silver cup from the prime minister, and every September the 15th a national holiday held in their honour.
The ranks of the "super-old" have been growing for the past 40 years, surpassing 10,000 a decade ago, the ministry said.

Experts attribute the extraordinary number partly to the enduring popularity of fish, rice and vegetables among the elderly, just as younger Japanese pay the price for their growing appetite for fast food with bigger waistlines.

The number of centenarians is expected to grow to almost 1 million by the middle of the century, according to UN estimates.

Life expectancy in Japan is among the highest in the world, at almost 86 for women and 79 for men.

The country's oldest man, 112-year-old Tomoji Tanabe, attributes his longevity to a daily glass of milk, reading the newspaper and keeping a diary.

Tanabe, who has 25 grandchildren, 52 great-grandchildren and six great-great-grandchildren, said today he wanted to live "another 10 years."
"My biggest source of happiness is living like this and talking to everyone," he told TV reporters at his home in Miyazaki prefecture.

The southern island of Okinawa has the highest concentration of centenarians at 838 - or 61 for every 100,000 people - compared with a national average of 28 per 100,000 and 10 per 100,000 in the US.

Japan's rapidly ageing population is expected to place unprecedented strain on the country's pension system.

Though today's company employees can expect about US$1,450 a month after they retire, policy makers have yet to agree on how to fund the system in the coming decades.

Just over a fifth of Japan's 127 million people are over 64, with 25 million collecting pensions, but that number is forecast to grow to 35 million by 2040.
---
More Information on World Pension Issues

---
Copyright © Global Action on Aging
Terms of Use | Privacy Policy | Contact Us