Argentine Lawmakers Plan Curbs on Government Use of Pensions
By Bill Faries and Eliana Raszewski, Bloomberg.com

October 23, 2008
Argentina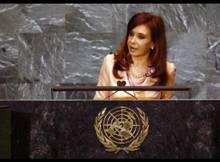 President Cristina Fernandez de Kirchner
Argentine lawmakers will try to block the government's use of $29 billion in nationalized pension assets to repay debt when they consider President Cristina Fernandez de Kirchner's plan to seize the funds from private money managers.

Opposition deputies said the legislation probably will pass and the debate will focus on limiting how the government uses and invests the money. The social security committee in the lower house may take up the bill as soon as Oct. 27, lawmaker Juan Acuna Kunz said in an interview.

Speculation that Fernandez intends to finance the government with the now-private funds has roiled Argentina's markets. Stocks had their biggest two-day drop yesterday since 1990 and dollar bond yields topped 30 percent on concern the takeover is a last-ditch attempt to avert the country's second default this decade.

``The government isn't really thinking about the consequences of this, especially in terms of investment and its credibility,'' former Economy Minister Roberto Lavagna said in an interview with Bloomberg Television.

Congress will seek to weaken the president's control of the panel that oversees pensions by giving a majority of its seats to opposition parties, workers and retirees, said opposition Senator Gerardo Morales, head of the social security committee. He said he also wants Congress to repeal the so-called ``superpowers'' the president has to spend excess revenue without lawmakers' approval.

Illegal Plan

``The government is trying to avoid having to pay interest on bonds and they want to find more money for public works,'' Esteban Bullrich, a congressman of the opposition Pro Party, said in a telephone interview in Buenos Aires. ``We see this plan as illegal.''

Fernandez, 55, is counting on her majority coalition in Congress to pass the measure, and sought to expand support by saying she wants a committee of 12 lawmakers to help oversee the funds' management. The coalition, built by Fernandez and her husband, former president Nestor Kirchner, weakened this year as Congress refused to back her decree raising export taxes on farm goods and held up plans to nationalize the country's biggest airline.

Fernandez announced her plan to take over 10 private pension funds during a speech yesterday in Buenos Aires. She said the proposal would protect retirees from the global financial crisis and denied trying to ``grab the cash'' to pay off debt or finance new programs or projects. The last time Argentina sought to tap workers' savings was in 2001, just before it halted payments on $95 billion of bonds.

Stocks, Bonds

Stocks, bonds and the currency have plunged since Oct. 20 on concern the proposed pension takeover is aimed at meeting financing needs that have swelled as prices for the country's commodity exports tumbled, eroding tax revenue.

Argentina hasn't had access to international debt markets since its 2001 default and demand for its peso bonds has dried up on concern the government is underreporting the rise in consumer prices. That prompted Argentina to rely on about $8.4 billion in loans from Venezuela since 2005.

``Venezuela was Argentina's last resort,'' said Enrique Alvarez, an economist at IDEAglobal Inc. in New York.

The country's private pension plans held about 52 billion pesos ($16 billion) worth of Argentine government bonds as of Sept. 30, according to the pension fund regulator.

Bond Owner

Under Fernandez's plan, the government will be the owner of its own bonds. The move would save the government about $3.5 billion in payments to the private funds next year, in addition to giving it about $4.5 billion in annual contributions, said Javier Kulesz at UBS Pactual in Buenos Aires.

``In taking over these companies the state is on both sides of the table -- it's a creditor and debtor at the same time,'' Lavagna said.

Fernandez described the takeover as a ``rescue'' for 9 million Argentines who maintain individual accounts managed by banks including London-based HSBC Holdings Plc and Spain-based Banco Bilbao Vizcaya Argentaria SA. The funds lost 2.25 percent in September from a year earlier. The private funds invested an average of 55 percent of their funds in bonds and 11 percent in stocks as of September, according to the Web site of the pension fund regulator.

``This is going to open two debates,'' said Buenos Aires-based pollster Felipe Noguera. ``One will be on how to fund the public sector and the second on what to do with the pension funds.''

Borrowing Needs

Government spending rose 40 percent to 19.8 billion pesos in August from a year earlier. Tax revenue rose 36 percent to 24.2 billion pesos over the same period. Argentina's borrowing needs will swell to as much as $14 billion next year from $7 billion in 2008, RBC Capital Markets, a Toronto-based unit of Canada's largest bank, said yesterday, spurred in part by the need to refinance maturing debt.

The benchmark Merval stock index has tumbled 23 percent this week. Yields on Argentina's 8.28 percent bonds due in 2033 surged 5.2 percentage points yesterday to 29.33 percent, according to JPMorgan Chase & Co. The bonds yielded 12.16 percent a month ago.
---
More Information on World Pension Issues

---
Copyright © Global Action on Aging
Terms of Use | Privacy Policy | Contact Us