The Right to a Comfortable Retirement
By Dave McGuire, Radio Netherlands Worldwide
September 12, 2008
Netherlands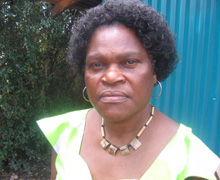 Bilha Ndoko Azenga
People are living longer, health care has improved, and for many people, living into ones 70s or 80s can be fulfilling and meaningful. In the western countries, this is mostly due to retirement - the ability to stop working and enjoy life. But the promise of a comfortable retirement is no guarantee.

Lestra Vertucci, in the U.S. state of New York, retired nine years ago at the age of 65. Since her husband died, she's been forced to go back to work.
"Being alone was, not so much scary, but it was lonely. And not only that, I lost income. So for convenience sake, I thought about going back into the workforce." Losing her husband also meant losing his social security income - which made it difficult for Mrs Vertucci to live the modest life she wanted. It was a tough decision:

"I very much enjoyed being retired. But circumstances, and financial circumstances, I couldn't afford to. I had to get back into the workforce."

Bilha Ndoko Azenga doesn't have the option of returning to work. She retired from teaching at the age of 55, as required by Kenyan law. Her pension, though, was much smaller than she imagined:

"I was shocked - I had to sit down with my family and think about how we are going to survive. So I saw that it was so little, I looked at my children - there are four of them, and they're not working - and then there I was, there I was. So we are trying to survive."

Survival for Mrs. Azenga means supporting herself and children with 7000 Kenyan Shillings a month, which is about €70. She's unable to return to work as a teacher because of government rules - she has to stay retired. All this is a complete shock to her. For the first time in her life, she says, she's experiencing hard times.

But while Mrs. Azenga's situation is very tough, she still has a pension, unlike many of her fellow Africans, according to Stephen Kidd of the group HelpAge International. "Ninety percent of older people in Kenya don't have any pension income at all. They're forced to work in the informal sector. Mrs Azenga's story is tragic, but when we begin to think that she's one of the better off older people in sub-Saharan Africa, we begin to get an idea of the terrible problems older people are facing."

Around the world, social systems are changing as people live longer. Their children, Kidd explains, often leave home for work and often emigrate. Sometimes, they leave their children behind. Older people then become caregivers again. In countries affected by HIV, many children become orphaned when their parents die, becoming an extra responsibility for grandparents.

The best answer, Kidd argues, is to emulate a programme in New Zealand. Every senior gets a modest pension, whether they work or not, regardless of their marital status. In poorer countries, he says, similar social safety nets can be implemented for around one percent of a country's gross domestic product, which is a small price to keep seniors out of destitution.
---
More Information on World Pension Issues

---
Copyright © Global Action on Aging
Terms of Use | Privacy Policy | Contact Us