BT Cuts Final Salary Pension Link

BBC News

November 11, 2008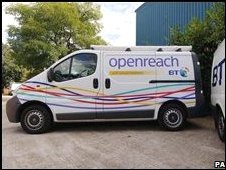 Unions said they had fought hard to secure a good deal for BT workers


BT is proposing radical changes to its main pension scheme to save money.

It wants to cut the traditional link with final salaries, to raise the retirement age to 65, and to build up pension entitlement at a slower rate.

The changes for 65,000 staff in the group's final salary scheme will come into effect for pensions earned after April 2009.

BT needs to rein in the costs of running the scheme as it was last reported to have a deficit of £600m.

"Even though BT has made more than £2.5bn in top-up payments to maintain the scheme over the last 10 years, we need to take further action to sustain it in the long-term," BT said.

Among the factors driving up the long-term cost of the scheme, it pointed to the fact that people were living longer in retirement and that future investment returns are expected to be lower.

BT currently pays in the equivalent of 19.5% of its workers' pensionable salaries into their final salary scheme.

It would not reveal by how much its planned changes would cut the overall contribution rate, or how much money it would save, until it releases its half-year results later this week.

However, 20,000 staff in its separate defined contribution schemes are being offered higher company contributions.

After negotiations which began in May, BT has won support for the pension changes from its main trade union, the Communication Workers Union (CWU).

Andy Kerr, the CWU deputy general secretary, said it had "fought hard" to negotiate a good deal for its members.

"We have secured an agreement to ensure the future sustainability of the BT pension scheme and keep it open for future service while improving BT's contributions for the defined contribution pension members," he said.

"In the BT pension scheme we have ensured that service before April 2009 remains linked to final salary, that the retirement age rise is phased in, and that contribution rates are in future linked to income levels," he added.

BT's final salary scheme is the largest in the private sector with assets of about £39bn.

BT's booklet illustrates the changes with typical examples

The proposed changes follow the recent example of those brought in at the Royal Mail pension scheme, which also stopped future pension entitlement being linked to its current employee's final salary and replaced it with a link to lower "career average" earnings instead.

Although the BT scheme was closed to new joiners in 2001 it still has 65,000 contributing members as well as 97,000 deferred members - those who have left the company but have yet to draw their pensions - and 178,000 pensioners.

Pensioners and deferred members will not be affected by the plans.

The CWU is staging a consultative ballot of its members from 24 November, while in parallel BT will launch a formal consultation with all its employees which will last from 13 November 2008 until 13 January 2009.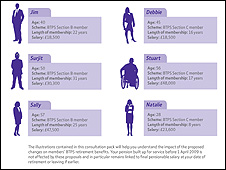 The changes are outlined to staff in a 45-page long booklet

On 1 April the retirement age in the final-salary scheme will rise from 60 to 65, though this will not apply to those who are very near to retirement and who leave the company before 1 April 2012.

Anyone else who chooses to retire before 65 will then find that their accrued pension benefits earned after April next year will be reduced for early payment.

Thus most staff will have to work for several more years to earn the pension they would previously have reached at 60.

The 33,000 staff in section C of the scheme, which is for those who joined after 1 April 1986, will build up their pension at a slower rate of 1/80th of salary every year, rather than the better rate of 1/60th, although they will now receive a standard lump sum payment on retirement.

All members in both section B - for those who joined between 1 December 1971 and 31 March 1986 - and section C will find that pensions accrued after next April are no longer linked to their final salary, but to their career average salary, which will mean lower pensions for many.

Each year, 1/80th of a member's salary will be allocated to their notional pension, and revalued in line with either the retail prices index, or the increase in pensionable salary, whichever is lower.

This annual revaluation means that someone whose salary rises substantially above inflation over time, typically through promotion, will not see the full benefit reflected in their pensions as would have been the case in a final salary scheme.

Some members' pension contributions will also rise, from 6% now to as much as 8.5% by 2010, depending on how much they earn and which section of the scheme they are in.

The staff who will gain from the package of changes are those in the defined contribution section, which new recruits have been offered since 2001.

Currently they can chose to pay in between 2% and 10% of their salaries each year, with matching employer's payments of between 4% and 10%.

From 2009, the plan is that these staff contributions will range from a minimum of 4%, to 7% and above, while BT will contribute from 6% to 9% of pensionable salaries by 2010.

No change is being proposed for staff in section A of the final salary scheme who joined before 1 December 1971.
---
More Information on World Pension Issues

---
Copyright © Global Action on Aging
Terms of Use | Privacy Policy | Contact Us