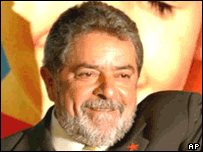 Brazil shakes up pensions

Steve Kingstone, BBC News

November 26, 2003
The Brazilian Senate has approved a major overhaul of the pension system.

The measure, which was voted through on Wednesday, would curtail the generous benefits paid to retired public servants.

The reform - likely to become law - would also save the government an estimated $16bn over 20 years.

President Luiz Inacio Lula da Silva came to power in January promising change and pension reform is the first big test of whether he can deliver.

Minority favoured

The country's pension system favours a small minority of Brazilians who used to work in the public sector.

Having retired they continue to draw a full monthly salary.
As a result Brazil has a social security deficit equivalent to around 5% of gross domestic product.

The proposal approved by the Brazilian Senate by 55 votes to 25 would for the first time tax the pensions of retired public servants and cap the level of benefits for future retirees.

In its original form the bill had gone further envisaging deeper cuts and greater savings for the state but it was watered down following strike action by civil servants - some of whom were in the public gallery to watch this vote.

As the measure was passed they walked out in protest singing the Brazilian national anthem.

The proposed reforms will almost certainly become law now barring a disaster for the government in a second round of voting probably next week.

President Lula is poised to claim his first political success in an area where the previous government failed.
---
Copyright © 2002 Global Action on Aging
Terms of Use | Privacy Policy | Contact Us