CSFB Gets Record UK Fine for Japan Breach
By REUTERS





NY Times, December 19, 2002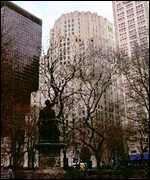 CSFB's US operation has also been the target of official enquiries
LONDON (Reuters) - Britain's financial watchdog slapped a $6.4 million fine, its highest ever, on investment bank Credit Suisse First Boston (CSFB) on Thursday for trying to mislead Japanese regulatory and tax authorities.
The Financial Services Authority said CSFB's London-based derivatives unit had tried to mislead Japanese authorities between 1995 and 1998 by concealing and removing evidence about the extent and type of its Japanese businesses.
Actions in Japan by CSFB, part of Swiss banking giant Credit Suisse Group, dealt with years ago by regulators there, also breached UK rules requiring it to keep proper internal records and to deal openly with regulators anywhere.
The UK fine of four million pounds is almost 20 times larger than a penalty meted out to CSFB by the Tokyo District Court over the affair in March last year.
``The unprecedented size of the fine makes it clear that we consider any attempt to mislead regulators and other authorities, whether in the UK or in other countries, to be an extremely serious issue,'' Carol Sergeant, the FSA's head of enforcement, said in a statement.
``Ensuring that firms have organizational cultures that prevent this type of behavior is essential to maintaining the confidence we all expect to have in our financial markets.''
The FSA's fine is yet another heavy slap on the wrist for CSFB, which is among the firms involved in probes into the investment banking industry on Wall Street and has already been punished by Japanese regulators.
Its derivatives unit, Credit Suisse Financial Products, now called CSFB International (CSFBI), was shut down in Japan in late 1999. It was convicted in 2001, along with a Tokyo branch manager, Shinji Yamada, of obstructing official investigations. The firm was fined 40 million yen, then worth just $334,400.
INTERNAL CONTROLS
CSFB said on Thursday it had accepted the British FSA's findings, paid the fine and improved its internal controls. ``The individuals concerned are no longer with the firm,'' it added.
``We are pleased to resolve this matter and put it behind us,'' Gary Lynch, CSFB's general counsel, said in a statement.
Explaining the nature of the wrongdoing, Britain's FSA said CSFBI had prepared false explanations about its Japanese business activities, fearing that the Japanese regulator might conclude it was doing business without the necessary license.
It ``also thought that the tax authority might decide that this business should be taxed in Japan.''
Britain's FSA said CSFB had since made extensive changes to improve standards of ethics and professionalism, which had led to major improvements in CSFBI's compliance culture generally.
The UK watchdog, accused at time by consumers and MPs of being a weak regulator, has shown its teeth in recent days.
On Tuesday, the FSA fined the country's second-biggest bank, Royal Bank of Scotland, $1.2 million for failing to keep adequate controls against money laundering -- the first fine since it began policing money laundering rules late last year.
In the United States, CSFB is one of the investment banks facing fines totaling $1 billion or more as market regulators seek a settlement over stock research abuses. Media reports have suggested CSFB could pay around $200 million.
CSFB has also come under fire for its methods of allocating hot new share offerings in the late 1990s and early 2000.
---
Copyright © 2002 Global Action on Aging
Terms of Use | Privacy Policy | Contact Us