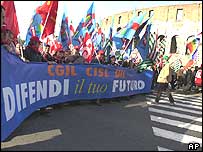 Italians flock to pension protest

BBC News

December 6, 2003


Huge crowds have gathered in Rome to complain about planned pension reforms.

Throngs of protesters waved red and green union flags, sang traditional labour songs and held placards reading "defend your future".

The government says reforms are needed to ease Italy's public pensions burden, the biggest in Europe per capita.

But unions, who brought in protesters on 3,000 buses and 40 trains, say a 1995 reform has averted any crisis brought on by an ageing population.

Police said up to 250,000 people attended the rally, which follows a four-hour general strike in October observed by millions of workers.

Organisers said the protest had attracted one and a half million people.

Union warnings

To the rhythms of the Tarantella, a traditional Italian dance, workers, pensioners, families and the unemployed poured into Piazza san Giovanni, one of Rome's biggest squares.

"Today, we're not on the streets to bring down the government but to get it to change course and adopt new policies," Savino Pezzotta told the crowd, news agency AFP reported.

He is leader of CISL, one of the three main Italian unions which organised Saturday's march.

"[Prime Minister Silvio] Berlusconi had better listen to the street," warned Guglielmo Epifani, leader of the left-wing CGIL union.

The three unions together represent 11 million of Italy's 23 million workers.

Mr Berlusconi is determined to reduce the burden on pensions, which now account for 15.7% of Italy's gross domestic product compared to a European average of 13%.

His coalition government wants to increase the contributions period from 35 years to 40, and to encourage Italians to work to 60 or 65. Many currently retire on full benefits at 57.

But the unions say this reform is unjust and ineffective, and are refusing any further dialogue until the government withdraws the proposals.

Political portent?

Many among the colorful and noisy crowd also contested the general economic policy of the Berlusconi government, says the BBC correspondent in Rome, Frances Kennedy.

They claim the spending power of workers and pensioners is being eroded by measures that favor the wealthy, she says.

A large union demonstration in 1994 against any changes to the pension system is considered one of the factors in the early fall of Mr Berlusconi's first government, says our correspondent.
---
Copyright © 2002 Global Action on Aging
Terms of Use | Privacy Policy | Contact Us