Pension scheme for private sector
By Hasni Mohd Nasir, The Star
September 16, 2003
An alternative voluntary pension scheme has been suggested in place of the discontinued Employees Provident Fund (EPF) annuity scheme.
MCIS Zurich chief executive officer L. Meyyappan said unlike government servants who were well protected with pensions equivalent to half of their last drawn monthly salary for the rest of their lives, the same cannot be promised for private sector employees.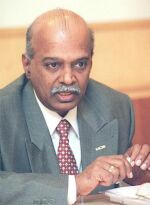 L. Meyyappan
"The lump sum payment from EPF upon reaching retirement age of 55 is definitely not adequate, and that fact has not been disputed.
"This issue, if not properly addressed, will result in various social problems for the older generation," said the former Life Insurance Association of Malaysia (Liam) chairman in an interview.
Meyyappan suggested that a private sector scheme managed by an insurance company in lieu of the EPF scheme.
To make the scheme successful, Meyyappan said there should not be any taxes imposed on such a fund as, with fixed deposits, such savings are meant for old age and should not be subject to tax.
And to make it work and sufficient to take care of a contributor's post retirement needs, Meyyappan said a total contribution of 40% of monthly salary - 20% from employer and 20% from employee should be contributed to this fund.
"Upon reaching 55 or 60, accumulated contributions can then be converted into a single premium payment annuity. Monthly payments equivalent to half of last drawn monthly salary can be disbursed, subject to a minimum guaranteed period of 20 years or so," he said.
"This sort of retirement fund has been successfully practised in developed countries in Europe and the United States. Called superannuation funds, this method has managed to pool and manage pension funds effectively," he added.
He said such a fund was not aimed at taking over EPF role as the national retirement fund, but as an alternative, especially for those top end employers who want "to take care" of their employees.
"Maybe organisations like Petronas, Maybank, or others in lucrative sectors would want to start with the scheme," he said.
As for EPF, Meyyappan said the organisation was under severe pressure to meet the public expectations.
"EPF has billions of ringgit in funds to be managed and the time is right for an alternative. The country does not need cheap funds anymore as most of the mega projects have been completed and new projects are being privatised with funding arranged by the owners," he added.
---
Copyright © 2002 Global Action on Aging
Terms of Use | Privacy Policy | Contact Us