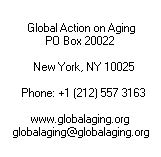 back


Company pensions to be protected

BBC News

November 26, 2003

The government is to introduce a Pensions Bill to protect the retirement savings of UK workers.

Under the current law thousands of workers have lost their company pensions when their firm has closed.

From 2005 employers are to be forced to pay into a protection fund which will cover workers pensions if they go bust.

The government said it would ensure "a pension promised is a pension paid," but workers who have already lost out are not to be compensated.

Confidence

The government has set itself the target of restoring confidence in UK pensions.

Successive mis-selling scandals and the decision by many employers to close their employee pension schemes in a bid to cut costs has hit savers hard.

Many lucrative final salary pension schemes - which guarantee a retirement income based on salary and length of service to an employer - have disappeared to be replaced by schemes, which place investment risk on the employee.

Poverty

Unions and pension bodies have been particularly concerned about the plight of workers whose firms close with the pension scheme in deficit.
Amicus, - currently taking the government to the European court over its alleged failure to protect workers' pensions - told BBC News Online that the consequences of refusing compensation could be dire.

"Many Britons will be facing pensioner poverty in the years to come - God help whoever has to write the Queen's speech in 2015," an Amicus spokesperson said.

However, the Confederation of British Industry (CBI) said that any levy on firms put an unnecessary burden on business.

"Companies with sound schemes cannot be expected to bear the entire risk of baling out those that fail. Government and employees must play their part," John Cridland, CBI deputy-director general said.

Tough luck
Under current pension rules, brought in after the Maxwell scandal, pensioners who have already retired are protected, but those who are still working are not.

As a result, after a lifetime's contributions a worker can be left with very little, through no fault of their own.

Bill Riggans, 62, a steelworker who lost nearly 80% of his pension pot when his firm United Engineering Forgings (UEF) went bust in 2001 told BBC News Online.

"You work 27 years for one firm trusting that its pension scheme is guaranteed only to see it disappear almost overnight - it is a disgrace."
"By not allowing the protection fund to pay compensation the government is saying to me and other workers tough luck."

Simplify

The overall aim of the pension bill is to secure workplace pensions, reduce complexity and entice people to remain in the workforce for longer.

Malcolm McLean, chief executive of the Pensions Advisory Service, welcomed the bill, but said that "much would depend on the ability of the pension protection fund to deliver what it promises."

"Will the fund be able to cope if a major company goes bust, and if not, will the government step in?"

The government has announced it would simplify the tax treatment of retirement savings, reducing costs to pension schemes.

A new, less bureaucratic pensions regulator is promised and people will be able to find out online how much pension they have earned from the state.

In addition, the government plans to pay people a lump sum of up to £30,000, in return for working longer and deferring the take-up of their state pension.

Alternatively, they will receive a higher state pension.
---
Copyright © 2002 Global Action on Aging
Terms of Use | Privacy Policy | Contact Us