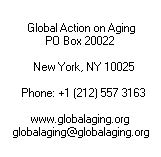 back


Pension plans prompt Italians to strike
By Claire Soares, swissinfo

October 24, 2003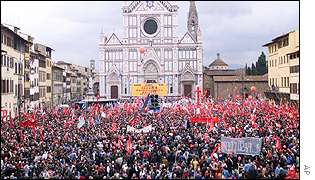 ROME (Reuters) - Trains, planes, schools and even opera houses have been hit as millions of Italians have staged a half-day strike against government plans to raise the retirement age to ease pressure on the pension system.

Thousands of flag-waving protesters flooded into piazzas up and down the country on Friday in the third storm of industrial action Prime Minister Silvio Berlusconi has had to weather since he returned to power in 2001.

"If the government doesn't change its course and recognize the strength of our arguments, they can expect us to continue our protests," said Guglielmo Epifani, head of the largest union CGIL, leading the march in the northern city of Bologna.

Like France and Germany, Italy is trying to reform its pensions system, which swallows about 15 percent of gross domestic product. That proportion is set to grow as low birth rates and longer life expectancy age the country's population.

So the government wants to prevent Italians retiring before they have made 40 years of contributions or reached a minimum age of 65 for men and 60 for women. At the moment, Italians can retire at 57 if they have paid into the system for 35 years.

"It's necessity that's forced us out into the streets," said Marcello Cedroni, 83, clad in red and protesting in Rome's baroque Piazza Navona. "I'm a pensioner and I'm finding it hard to survive now. Under the new system, it will be even worse."

With the top three unions' 11 million members called to action, hospitals said they could only guarantee staff for emergency services, schoolchildren got a bonus day at home, and Milan's La Scala opera cancelled its evening performance as its staff joined the walkout.

WAITING AT THE STATION

But it was travellers that bore the brunt. National airline Alitalia axed more than 150 afternoon flights as a consequence of the staggered four-hour strike and morning trains were cancelled, scuppering tourist plans.

"What the hell is going on?" asked Kent Hedtke from the U.S. state of Minnesota, whose European honeymoon came to a halt on the floor of the Italian capital's main station.

"We were meant to go to Florence and we bought tickets from the machine, but then it turned out no trains were running."

While many economists think Berlusconi's reforms do not go far enough, unions argue that laws passed in 1995 are enough to avert a crisis and accuse the government of churning out scare-mongering propaganda about pensions to hide other "misguided" policies.

Although Berlusconi's first government in 1994 was toppled over the pensions issue, his four-party coalition looked set to stand firm this time, with Labor Minister Roberto Maroni dismissing the strike as "a part-time protest".

The billionaire-businessman-turned-politician has had a mixed record against the unions. In April 2002, he was hit by the first full-day work stoppage in two decades as the country ground to a halt to protest labour market reforms.

In the wake of that unrest, Berlusconi managed to split the unions, with CISL and UIL accepting softer labour regulations to the fury of hardline giant CGIL, which staged a one-day strike as it went it alone against the government, but failed to secure further concessions.

Berlusconi may be irked that the unions have reunited around the pensionís chestnut.
---
Copyright © 2002 Global Action on Aging
Terms of Use | Privacy Policy | Contact Us