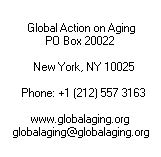 back


New NIS pension from today
Trinidad Newsday
October 1, 2003
The National Insurance Board has adjusted the monthly pension payment for 47,551 NIS pensioners. The adjustment which takes effect today — October 1 — ensures a minimum NIS pension of $1,000 for each NIS pensioner.

The majority of pensioners received an increase to their existing monthly pension payment of 100 percent or more. The increase reflected the difference needed to 'top up' existing NIS pension payments to $1,000. The National Insurance Board has indicated that the total difference amounted to $27,831,480.78, and that the monthly expenditure for the new $1,000 pension will approximate $48 million, compared to approximately $20 million that was previously incurred each month.

NIB's Executive Director, Jeffrey McFarlane, regards the increase as both necessary and timely, in keeping with the recommendations of the 6th Actuarial Review of the National Insurance System. McFarlane also pointed out that this increase was consistent with the Board's own policy that pensions and other benefits must be relevant to contributors' needs. He summised that " NIS pensioners can now better afford basic necessities and other consumables, which will in turn promote greater economic activity within Trinidad and Tobago ."

The NIS pension is the first of the National Insurance benefits to be increased. Effective November 1, 2003 , claimants can look forward to increases to the maternity grant from $1,000 to $2,000; funeral grant from $2,000 to $4,000, and child allowance of $320 per child per month. Enhancements to other National Insurance benefits will take effect from January 4, 2004 , according to a release from the NIB.
---
Copyright © 2002 Global Action on Aging
Terms of Use | Privacy Policy | Contact Us