Africa

General Articles Southern Africa Central Africa Eastern Africa Western Africa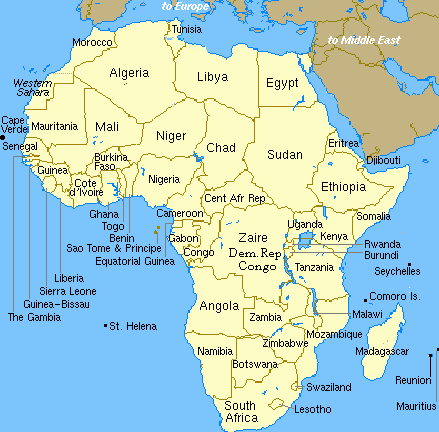 Africa: Tired of Food Crises, Africa Opts for Giving Cash (August 17, 2007)
Increasingly aid agencies and governments are using direct cash transfers to fight hunger and poverty. Moving away from the "food first" approach in hunger stricken regions in Africa, local authorities and international donors now give a combination of food and money. The aim is helping needy families to "build up assets so that they can weather hard times." Several countries plan payments to those (often grandparents) taking care of HIV/AIDS orphans.

Amnesty International Report 2005: Africa
During 2004, the human rights of ordinary men, women, children and older persons were disregarded or grossly abused in every corner of the globe. Economic interests, political hypocrisy and socially orchestrated discrimination continued to fan the flames of conflict around the world. The "war on terror" appeared more effective in eroding international human rights principles than in countering international "terrorism". The millions of women who suffered gender-based violence in the home, in the community or in war zones were largely ignored. The economic, social and cultural rights of marginalized communities were almost entirely neglected.
This Amnesty International Report, which covers 149 countries, highlights the failure of national governments and international organizations to deal with human rights violations, and calls for greater international accountability.
The report also acknowledges the opportunities for positive change that emerged in 2004, often spearheaded by human rights activists and civil society groups. Calls to reform the UN human rights machinery grew in strength, and there were vibrant campaigns to make corporations more accountable, strengthen international justice, control the arms trade and stop violence against women.
Whether in a high profile conflict or a forgotten crisis, Amnesty International campaigns for justice and freedom for all and seeks to galvanize public support to build a better world.

Africa: Aged in Africa by Aroun Deen (August 11, 2004)
Aged in many African countries are respected and cared of in peaceful times, when they can bring benefit to their families and society. However, when a war starts, many young members of the family view their old relatives as burden and some might even leave them behind. When left behind, the elderly face all the horrors of brutal and inconsiderate behavior of enemy combatants. The peace building potential of the old people is often ignored as well

World: Resolution 1208 Adopted by the Security Council (November 1998)
This United Nations Security Council Resolution is the single one that explicitly mentions the "elderly," next to the "women" and the "children". Indeed, the elderly are protected as they belong to what the UN refers to as a "vulnerable groups." If the women have specific protection with Resolution 1325, the elderly don't. This resolution represents an important step in the process of protecting the most vulnerable and forgotten part of the population. It focuses on "the particular security needs of women, children and the elderly, who are the most vulnerable groups in refugee camps and settlements".



Southern Africa
(Angola, Botswana, Lesotho, Malawi, Mozambique, Namibia, South Africa, Swaziland, Zambia, Zimbabwe)


South Africa: Elderly Lose Everything in Nigel fire (August 2, 2010)
In a massive fire, 80 elders in an old-age home in Nigel lost all of their belongings as they watched the home burn to the ground. Eighteen people died in the evening fire. The 84 individuals rescued were left with little but a state of utter shock. Survivors have been moved to alternate homes.

Namibia: Situation in Flooded Caprivi Could Worsen (March 20, 2007)
The Caprivi region in Namibia has suffered enormous losses by floods. An estimated 4500 families need to be relocated. The Namibia Red Cross Society intends to assist the population, but basic relief items such as shelter materials, food and water are needed without delay. Lisikili village's headman, Imukusi Libongani, calls for assistance for older persons as well. "Red Cross mosquito tents are only given to children under 5 and to pregnant women, now what will happen if the Namibia Red Cross Society does not give mosquito nets to the elderly too? After all, it is the elderly who are looking after everyone in this community," he said.

Zimbabwe: Government Launches another Clean-Up Operation (June 16, 2006)
Responding to condemnations by human rights organizations, including the United Nations, the government of Zimbabwe has launched a policy to clean the slums of Harare in the capital for the second year. Called "Drive out Filth," last year's program left about 700,000 people homeless. Most are still homeless and vulnerable to cold. Gabriel Chaibva, spokesman for the pro-senate faction of the opposition Movement for Democratic Change in Zimbabwe, explains, "It is clear that the victims of the demolitions, especially the elderly and children, are likely to be exposed to the vagaries of cold weather."

Swaziland: A Plague of Orphans and Lonely Grandmothers (June 3, 2006)
Nicholas D Kristof, from the NY Times takes a stand in this article for the forgotten HIV/AIDS victims in Africa. He reminds us that about 3 million Africans die of AIDS every year. In this crisis, the grandparents are very often the only caregivers in charge of the AIDS orphans. But when they are ill too, the children have to grow up by themselves. After his grandmother died of AIDS, Temdoline, 9 years old, went to live with his aunt who is also sick. "Nobody will take care of them after my death," she says.

South Africa: Tired of Waiting, Frustration Mounts Over Promised Change (February 24, 2006)
In South Africa, the conditions of the poor have left thousands of local residents frustrated by the slow rollout of housing and service delivery they had expected from the government after democratic elections in 1994. Thousands of people in the Musina area have no access to water and basic hygienic products. Poor sanitation can in some cases lead to serious epidemics, including typhoid and cholera, while even non-epidemic diseases, such as salmonella and diarrhea, could have serious health implications. Children and the elderly are the two high risk populations for high morbidity and mortality from diarrhea. Diarrhoea-related diseases are a leading cause of death among both children and elderly in South Africa.

Angola: Three Years after Civil War, Little Progress for Returnees (December 17, 2005)
At the end of 2005, Angolan displaced persons are still suffering, three years after the ended. Hundreds of thousands of recently returned refugees, internally displaced persons and former combatants face daunting challenges in reintegrating into Angolan society. The government offers little help, counting on the efforts of the UN and NGOs which provide all the assistance there. Elderly and disabled persons, widows and female-headed households experience the worst shortfalls in government assistance, particularly in rural areas.

Angola: The Responsibility to Assist Returnees (November 22, 2005)
Almost all Angolans displaced during the war appear to have found permanent homes. But an estimated 53,000 Angolan refugees are still living in camps in bordering countries. The government of Angola asked its provincial administrations to give "particular attention to the most vulnerable (widows, children, elderly, disabled) that may require special assistance." Yet Human Rights Watch found no evidence of any government assistance to these vulnerable persons when they reach their final destinations. Instead, they rely upon the support of their families and neighbors, in already weak communities. For instance, an elderly widow told Human Rights Watch that she relies upon the community of her village for food and assistance, while the village can't even supply its inhabitants with food.

Zimbabwe: Mass Evictions Lead to Massive Abuses (September 11, 2005)
(Article in French)
With its policy of forced evictions and mass displacement, the Zimbabwean government has violated the human rights of hundreds of thousands of its citizens, Human Rights Watch said in a report released today. Over the past two weeks, the authorities of Zimbabwe have compounded the suffering by refusing to fully cooperate with United Nations agencies and humanitarian groups working to assist the evicted population. Older people have had to sleep outside and their medical treatments were interrupted: Human Right Watch fear epidemics and starvation.

Zimbabwe: US Envoy Barred From Visiting Holding Camp (August 15, 2005)
The Zimbabwean government barred United States envoy, Tony Hall, from visiting a holding camp for victims of the government clean-up operation. Hall was on a three day visit to assess food shortages in the famished country but was told by officials that he needed permission to visit the Hopely Farm in Harare . Hall stated that "the government doesn't want me to see this place because old people are dying." How will the people suffering in Zimbabwe receive help if the government won't let others see and assess their needs?

Zimbabwe: Harare's Failure to Appeal for Food Aid Worries World Food (August 4, 2005)
The World Food Programme (WFP) is concerned with Zimbabwe 's failure to make formal appeals for food aid, as 4.3 million people continue to face food shortages. WFP says it has been "difficult and problematic" to relieve the millions of hungry Zimbabweans, including children, women, and elderly, without the government's help. What stands in the way of the Zimbabwe government making the request?

Zimbabwe: Reward or Retribution: The Politicisation of Zimbabwe's Food Supply (July 26, 2005)
There are reports all over Zimbabwe that the ZANU PF party is following a "reward or retribution" campaign. Apparently, those communities who voted for the party during the March 31 elections are now amply rewarded with food, while those who voted for the opposition face retribution and are denied access to the scarce and tightly-controlled food resources! This has caused many people, the young and elderly included, to become "ever more distressed due to food deprivation." How can they have the indecency to deny basic needs to these people?

Zimbabwe: Evictions Continue Despite International Condemnation (July 25, 2005)
Despite orders by the United Nations to "halt evictions of people living in unauthorized housing," Zimbabwean police continue to force residents out of their homes. Since mid-May, Operation Murambatsvina ('Clean Out Garbage') has left 700,000 people homeless or demoralized due to the removal of these unauthorized homes or unlicensed vending of the urban poor, the UN states. Zimbabwe 's government has rejected the UN's statements, as they claim the UN is biased. Critics ask if the government can afford to build the new housing program with a price tag of 300 million US dollars? More importantly, they urge that the needs of those displaced, including children and elderly, must be met immediately.

Zambia: Guns-for-Hire Legacy of Angolan War (September 29, 2004)
The Angolan civil war has made weapons readily available in neighboring Zambia and brought a new security problem to its villages: Karavinas or contract killers. Fear of the Karavinas who kill to settle scores as minor as suspicion of witchcraft has disrupted whole communities as many leave their villages for larger towns. Especially the elderly are affected as they fear the Karavinas may identify them as sorcerers. The government recognized the extent of the problem and warned to use the army to "crackdown" on illegal firearms.



Central Africa
(Burundi, Cameroon, Central African Republic, Chad, Republic of Congo (Congo Brazzaville), Democratic Republic of Congo (Congo Kinshasa), Equatorial Guinea, Gabon, Rwanda, Sao Tomé and Principé)

Democratic Republic of Congo: Victims of LRA Killing Campaign are Old People and Children (May 21, 2010)
Article also available in French and in Spanish
According to NGO Human Rights Watch, members of the Ugandan rebel Lord's Resistance Army slaughtered 96 civilians in northeastern Democratic Republic of the Congo between January and early April 2010 in a brutal killing campaign. Many killed were old people and children. For instance, one of the first communities attacked was the village of Munuku in February, where 24 civilians were killed, including 15 old men and women.

Rwanda-Uganda: Pherebonia Nyiramatabaro, "We are Treated Like Animals" (March 19, 2010)
All Pherebonia Nyiramatabaro, 85, wants is land where she and her 15-year-old grandson can grow a few crops. Nyiramatabaro, living in a two-room hut in Juru, a camp in the Nakivale Refugee Settlement, of southwestern Uganda, is one of thousands of Rwandans hit by a Ugandan government directive barring refugees from cultivating crops.

Cameroon: Tribal Conflict Leaves More Than 100 Elderly Dead or Homeless (June 5, 2007)
Following up on the Oku/Mbessa conflict that broke out in March 2007, President of a Cameroonian NGO said most victims were older people. About 60 elderly were killed; many more had to leave their homes. The tribes clashed over a disputed border which defines the amount of arable land each of the tribes gets. Prince Bengha Ngochia Martin said the elderly in that area are "extremely vulnerable."

Burundi: Regina Nzokirantevye, "I have been displaced most of my life" (June 11, 2007)
Seventy-year-old Burundian has returned to her home after spending more than three decades as a refugee in the Democratic Republic of Congo. She was hoping to find relatives who would help her in old age. The search proved futile. Like many elderly, displaced as a result of armed conflicts and bereaved of close ones, Regina Nzokirantevye is more vulnerable than returnees who are capable of working.

Chad: Some 9,000 Chadians Move to IDP Camp after Brutal Village Attacks (April 10, 2007)
After brutal attacks on two villages by janjaweed militiamen assisted by Chadian rebels, UNHCR reported that some 9,000 Chadians have moved to IDP camps. One UNHCR officer depicts the humanitarian situation as "apocalyptic." Some people, especially children and the elderly, died from exhaustion and dehydration while fleeing.

Chad: Charred Villages Tell of East Chad Ethnic Bloodshed (February 17, 2007)
In eastern Chad dozens of villages have been attacked in a wave of inter-ethnic violence pitting Arabs and black Africans that has displaced 120,000 civilians. The story of Khadija, a frail elderly woman victim of an assault, stresses the dire suffering and pain that have resulted from this conflict.

UN: Statement by the President of the Security Council Concerning the Situation in the Democratic Republic of Congo (S/PRST/2006/50) (December 6, 2006)
In its report on the presidential elections in the Democratic Republic of Congo and the electoral process, the Security Council expressed its serious concern at the impact of hostilities in the North Kivu province on the civilian population including women, children, and the elderly.

Chad: Thousands of People Flee Janjawid's Attacks (October 20, 2006)
(Article in French)
Since the beginning of October, the militias have increased their attacks on civilians in Chad. The Chad army does not respond to these attacks and is not enforcing the UN Resolution 1706 which requires the deployment of the UN military forces in Chad and Darfur. Civilians must flee. Among the displaced people, children and older people are still the most vulnerable.

Congo: Army Abducting Civilians for Labor (October 16, 2006)
In the Democratic Republic of Congo, army soldiers kidnap civilians to provide forced labor. Instead of giving these civilians some protection against abuse (their supposed mission), government soldiers mistreat civilians, even elderly people. Recently the soldiers forced one elderly man to work carrying firewood and manioc to their military camp.

Chad: Blankets: A Little Something More for the Vulnerable in Chad (September 29, 2006)
In a refugee camp in Chad, Secadev, the organization in charge of the camp has tried to focus on the specific needs of people who are more vulnerable than the others. Secadev includes elderly people in its list of vulnerable persons. The organization is distributing blankets to older persons giving special attention to the vulnerable. It is a good development that relief agencies have begun to recognize the special needs of older persons.

Burundi: UNHCR Chief Guterres Urges Rich Countries to Invest in Great Lakes Region (June 16, 2006)
A few days before the International Refugee Day (June 20th), the UN High Commissioner for Refugees urged "wealthy nations (to) do more to bridge the gap between relief and economic development." Guterres recounted the story of a former refugee who now lives in a poor village in the north of the country. "Elderly people don't have the strength to get to health centres, and they don't have money to pay for health care," the woman explained. She also informed Guterres about the complex situation facing widows who are not allowed to inherit their husbands' goods and who are usually left behind by the rest of the community.

Chad: Would-Be Refugees Going Hungry in Forest (May 29, 2006)
Hundreds of Central Africans are hiding in Bekoningka, Chad. They are escaping the conflicts between Chad government loyalists and rebels. Some of them had to walk hours to get to the forest and most of them are women, children and elderly. They are all waiting to obtain the status of "refugee," which would allow them to enter the camps and have food. But most of them are not even registered and therefore have no chance to receive the refugee bracelet that would save them.

Chad: President Threatens to Expel Darfur Refugees as Attacks Surge in Lawless East (April 14, 2006)
After rebels tried once again to oust Chad President Idriss Deby, he threatened to expel the quarter of a million Sudanese refugees located in eastern Chad. President Deby accuses the refugees of supporting the rebels. In a pro-government meeting, Deby gave the international community until June 2006 to restore stability around the Chad-Sudan border. Otherwise, the group of 200, 000 Sudanese refugees, which includes older persons, will be forced to leave and "the international community will have to find another shelter for those refugees," added Deby. The situation for the Sudanese refugees looks bleak.

Chad: Caught In the Middle on a Volatile Border (April 8, 2006)
The border blurs between Sudan and Chad as refugees from Sudan seek protection in Chad and refugees from Chad seek safety in Sudan. Roughly 9,000 Chadian refugees – comprised mostly of women, children, and older persons – seek safety from rival tribesmen supported by Chadian President Idriss Deby in Darfur, a conflict-ridden area in Sudan where 200,000 Sudanese have died and 2 million more endure famine and displacement.

Rwanda: Food and Seeds for Families in Rwanda (March 29, 2006)
The international community tends to ignore the drought in Kenya. The drought currently hitting Rwanda is even less publicized and talked about amongst world leaders although it destroyed most crops in some areas. NGOs are trying to spread the news about the coming and predictable disaster in Rwanda. Among them, Christian Aid is also distributing food to the most vulnerable parts of the population: the sick, the children and the elderly.

Central African Republic: Hungry Central Africans Eat Roots after Armed Raids (March 24, 2006)
"Thousands of people are condemned to die," Jean-Charles Dei of the World Food Programme, says in this interview. If the international community doesn't react to the emergency situation, the humanitarian tragedy will become worse. Currently, thousands of people, including older persons, are living in the forest and forced to eat wild roots to stay alive. They had to flee their farms to escape armed raids due to political instability despite the fact that 80 percent of people depend on subsistence farming.

Chad: Refugees in Darfur: Providing first aid, mobilizing other aid agencies (March 9, 2006)
Refugees arriving from Chad to the Western region of Sudan come with high risk. Indeed, Darfur is still gripped with instability and the locals can't help the newly arriving families. Many humanitarian organizations, including Medecins Sans Frontieres (Doctors Without Borders) are taking care of the most vulnerable groups of the population, including older persons. Humanitarians worry that the tensions in the country might get too high for them to remain in the Western region of Chad. In this case they would have to leave thousands of vulnerable people with no help. GAA wonders why news reports ignore the underlying global competition over the oil that lies under Sudan's soil and makes these poor people pawns in the struggle.

DRC: The Peculiar Terror that Is Northern Katanga February (February 13, 2006)
In 1998, after President Laurent Kabila created armed civil defense forces in Katanga to stop Rwandan military from invading. Eventually the militia groups devolved into local guerillas under shifting control and they now fight against the government's army. No matter whichside wins, civilians always pay the higher toll. Villages are burned down, pillaged and IDPs (internally displaced persons) report all kind of atrocities. Among IDPs, older persons are even more vulnerable as they often can't flee villages or hide as fast as the others. More waves of IDPs are on the road, leaving the population at high risk.

Rwanda: Southerners Starve (January 30, 2006)
The elderly are one of the most vulnerable groups affected by the food crisis in Rwanda. As drought and famine spread through the country, the government is setting up relief programs and encouraging people to store food.

DRC: Tens of Thousands Raped by Militias in Congo Conflict (March 8, 2005)
Around 40,000 children, young girls and women, from 4 months to 80 years, have been raped or otherwise subjected to sexual violence during five years of conflict in the Democratic Republic of Congo, according to an international investigation. One of the worst examples shows that a few peacekeepers have been accused of exchanging exchange sexual favors for food or money with young girls which totally discredits the United Nations action.

DRC: The Bloodiest Conflict Since World War II (December 13, 2004)
(Article in French)
The American NGO International Rescue Committee and the Burnett Institute from Australia published an alarming report on the civil war in Democratic Republic of Congo. In spite of the recent signing of peace agreements, 31,000 persons die each day and 98% of the recent deaths can be attributed to diseases and malnutrition concerning especially children, sick and older persons. During the last six years of the conflict in RDC, 3.8 millions people died "which represents the bloodiest conflict on earth since World War II". The international assistance is still insufficient and reaches 2.40 euros (≈2.65 US dollars) per person per year. Besides, insecurity in some regions of the country stops the international conveying of food to the population.

Burundi: Attack on a Refugee Camp in Burundi Kills at Least 180 (August 15, 2004)
Since early 90s, some 300,000 Burundians have perished in widespread, often intense ethnic violence between Hutu and Tutsi factions in this Central African country. In a recent attack on ethnic Tutsi refugee camp located near the border of Congo, the Hutu rebels, the National Liberation forces killed at least 180 people. The attackers claimed that they were pursuing Burundian soldiers who fled to the refugee camp from a nearby military position. However, the eyewitnesses say that they saw no soldier's body among the dead, except those of young children, women and old persons.

DRC: Congo War Leaves Legacy of Chaos (November 16, 2003)
The war in the Democratic Republic of Congo has left thousands of women victim to brutal sexual violence from militiamen from all sides of the conflict, and the elderly are not spared. This article reports that a 63-year-old grandmother was among many victims of rape in one village, and humanitarian agencies have seen women as old as 80 sexually assaulted.

DRC: In Congo, Thousands of Accused "Sorcerers" Suffer Abuse (October 30, 2003)
In the Democratic Republic of Congo, several years of violent civil war have torn apart families, disrupted food production, and devastated the lives of millions of people. In this context, accusations of witchcraft against children and the elderly are on the rise. Suspected "witches," usually children or older women, are often abandoned, abused, and even murdered.

DRC: Road to Recovery in the DR Congo? (September 29, 2003)
Families are slowly trying to rebuild their lives after years of war in the DRC, but many areas remain highly unstable. This HelpAge International article features three older women who are struggling to keep their families safe and healthy in the midst of appalling poverty and violence.

DRC: French Troops Find 22 Hacked Bodies in Congo (July 22, 2003)
Civilians suffered terribly during the flare-up of violence in the province of Ituri during the summer of 2003. French peacekeeping troops found the bodies of 22 elderly people, women and children in a village near Bunia, representing one of many civilian massacres in that region.

DRC: Displaced Pygmies from Pool Region, Congo Vaccinated Against Polio (July 29, 2002)
This UNICEF story highlights a polio vaccination program for displaced pygmies in Congo-Brazzaville's Pool Region, but it also provides a glimpse of the struggles of older people caught up in armed conflict. The village's elderly chief led over one hundred villagers through the forests to escape the fighting, during which another older man died of exhaustion.


Eastern Africa
(Comoros, Djibouti, Eritrea, Ethiopia, Kenya, Madagascar, Mauritius, Seychelles, Somalia, Sudan, Tanzania, Uganda)

Somalia: Mogadishu Faces a Catastrophe (July 6, 2010)
(Article also available in Arabic)
According to civil society sources, heavy fighting in the northern areas of the Somali capital, Mogadishu, has trapped many residents in their homes, with some unable to bury their dead. The fighting has rendered the areas inaccessible to those who could provide help to the affected families. The vast majority are women, children and old people, who have little choice except to wait and hope that the violence subsides.

Somalia: My Farm "is Full of Mines" (February 5, 2010)
Mohamed Olhaye Nour, 60, last cultivated his farm in Abuda, 24km southwest of Somaliland's capital, Hargeisa, more than two decades ago. Nour, who has two wives and 17 children, stopped cultivating his land because it "is full of mines." Two people who ventured onto the land were injured--one losing both arms. Nour has also lost 36 livestock animals due to the mines. According to Nour, many residents of Abuda were agro-pastoralists before these wars. Most fled to Ethiopia when clashes first broke out. When they returned in 1991, they found their farmland had been mined. Now they mostly survive raising livestock

Somalia: Aden Muhumed Hassan, "I Am Better at Collecting Charcoal than My Friends Who Have Hands" (November 19, 2009)
Aden Muhumed Hassan, 46, a divorced father of one, lost his hands 11 years ago after he accidentally picked up unexploded ordnance [UXO] planted during fighting between the Somali National Movement (SNM) and former President Siad Barre's army in Somaliland's liberation struggle 1981--1991, and during the Ogaden war between Somalia and Ethiopia in the late 1970's.

Uganda: Ambrose Obiya, "The Problems of the Disabled Have Been Forgotten" (October 15, 2009)
Ambrose Obiya, 70, and his family returned home in March after spending 13 years in a nearby camp, or protected village, because the war between the army and the rebel Lord's Resistance Army had subsided. Although life improved with the move, it was something of a hard homecoming, explains Obiya, who lost his sight in a car accident in 1978.

Kenya: Witnesses of Church Burning Describe Scene of Horror (January 3, 2008)
In Kiamaa, Kenya, more than 35 people died, in a church fire on January 2nd, 2007. They were trapped by armed people from another tribe. Since the fraudulent presidential election on December 27, 2007, local violence has broken out. Elderly people are often the first targets, as they can not escape or run. Elderly people often can't flee because of physical incapacities.

Kenya: Heavy Rains Wreak Havoc (August 19, 2007)
As heavy rains in Kenya continue, thousands of people remain unable to return to their houses, while others are cut of from the outside world. Local councilor Aggrey Ojiambo reports that "the elderly and children were sleeping in the cold and there was no food to about 40, 000 victims in 10 villages." He adds that the government has yet release food supplies.

Uganda: IDP Resettlement - Vulnerable People Stuck in Camps (July 11, 2007)
Jane Sinyola, 68, is one of the many elderly left behind in the Agweng internally displaced people's camp. Since the government introduced a resettlement program last year, most of the 22,500 inhabitants have returned to their villages. Older persons, such as Sinyola, are stuck in the camp because of their inability to build a house upon returning to their former villages and farms, now overgrown with weeds and bushes. Meanwhile, conditions in the camp deteriorate and the World Food Program has stopped its food supplies in February, making older persons even more vulnerable.

Somalia: Fleeing Somalis Battling Hunger, Cholera, UN Says (May 3, 2007)
Following violent conflict in Mogadishu, the capital of Somalia, thousands of Somalis had to flee a dire situation. With nothing but their clothes on their backs, they are battling hunger and cholera. "We have to help these people now. Women, children and the elderly are sheltering from the rain under trees and cholera is spreading," UN World Food Program Executive Director Josette Sheeran said in a statement.

Somalia: Thousands Have Recently Fled Capital, Plight of Those Remaining Becoming Desperate (April 3, 2007)
According to UNHCR estimates, nearly 100,000 Somalis have fled the conflict centered in the country's capital, Mogadishu. Most flee into neighboring Somali areas, where rents have become too expensive for most, forcing many to camp under trees with no access to water, food, or hygiene. In other areas, refugees were forced to stand in line for 12 hours to access fresh water, while water prices increased twenty-fold. Many families left their older relatives in Mogadishu where the insecurity has "curtailed humanitarian access," making the plight of civilians all the more desperate.

Uganda: The Burden of Living a Full Life in Uganda (March 14, 2007)
This heartbreaking story of Phoebe Auma, a Ugandan elderly woman aged 90 years old, depicts how difficult it is to be old and disabled in a country such as Uganda where older persons have been excluded from government programs. To tackle this dire lack, the Ugandan gender ministry conducted research attempting to determine the specific needs of older persons. It revealed that older persons are denied access to medical care, and suffer from isolation in their families and from lack of income. As Herbert Baryayebwa--the commissioner for disability and the elderly in the gender ministry-said, "the needs of older persons, particularly, the women, are unique."

Kenya: Dozens Killed and Thousands Displaced in Land Clashes (February 20, 2007)
Following continuing clashes over land in the western Mt. Elgon District of Kenya, about 30,000 people have been displaced within the country. Among them are vulnerable people such as old persons who need specific assistance in refugee camps.

Uganda: Battle to Stay Alive in Northeast (January 23, 2007)
The mother of an Ugandan family, Maria Loumo, struggles every day against an extremely harsh environment to feed her family. Inter-tribal violence and cattle rustling prevail and traditional codes of conduct, such as respect for the elderly, are no longer observed. Tackling this violence, the Ugandan authorities launched a disarmament operation, but it has failed miserably. It has resulted in increasing the violence and leading to terrific abuse, including summary executions, arbitrary arrests, torture and rape.

Somalia: Access Restrictions Hamper Aid Delivery in Somalia (January 19, 2007)
Aid organizations face restricted access in some areas of Somalia which has interrupted their emergency humanitarian relief. The dire armed conflict occurring in Somalia has forced civilians to flee, leading to a major humanitarian crisis. Some Somali refugees, including older people, are fleeing into Ethiopia where they will need medicine and food.

Kenya: Road to Nowhere? (January 11, 2006)
This article shows the difficulties of the Somali refugees' situation. They have fled or want to flee to Kenya. Somalis who got into Kenyan camps now find flood waters devastating the camps. Others wait at the borders to cross into Kenya. And others can simply not flee, such as the elderly, "I saw a lot of elderly people who wanted to flee but they can't walk," reports a refugee.

Sudan: Rebuilding Lives in Longer-Term Emergencies (November 26, 2006)
A new HelpAge International research project highlights the unrecognized vulnerability of thousands of internally displaced older persons in relief camps in Darfur. The "invisible vulnerable" in the camps represents about 55,000 older people. To support the specific needs of older people, the report calls for humanitarian organizations to take an intergenerational approach in long-term emergency programs.

Kenya: Floods Caused the Displacement of 78, 000 Refugees (November 14, 2006)
(French Article)
Recently, violent floods in East Kenya forced thousands of Somalis refugees to flee their camps. The High Commissioner for Refugees spoke out about his fear for the most vulnerable people in the refugee camps, especially older people and disabled, who, the High Commissioner said, had been left abandoned and helpless in the devastated camps.

Somali: Heavy Rain in Mogadishu Leaves 17 Dead (October 30, 2006)
In Somali capital, torrential rains caused the death of many people. Among the main victims, older people have been particularly affected by this disaster. Three older people died in a displaced people's camp in northern Mogadishu .



Ethiopia: Heavy Rain Mars Ethiopia Rescue (August 15, 2006)
Floods in Ethiopia killed hundreds of people and displaced thousands. The continuing bad weather hampers rescue operations of those who are still trapped, which are mainly the elderly, women and children. The floods also destroyed livestock and crops, indispensable for most people living in one of the poorest countries in Africa. "The extensive flooding was a cruel blow for already vulnerable people, many of whom have now lost everything, including their families," said Ebenezer Ngowi, the World Food Programme's acting country representative.

Uganda: More IDPs Cultivating their Own Fields (June 23, 2006)
After the war broke out between the Ugandan government and the Lords Resistance Movement, about two million people fled their homes to escape death. These Internally Displaced Persons have been living in camps for months, surviving thanks to international aid. As the aid gets smaller, Uganda tries to encourage IDPs to move outside the camps and "cultivate their own fields" to prevent famine. Nevertheless, "the majority of the nearly two million internally displaced persons in the region--mainly children, the elderly and women--remained in camps," the Famine Early Warning Systems Network said in its May update on the situation in northern Uganda.

Somalia: Aid Fails to Reach the Poorest in War-Torn Somalia (June 15, 2006)
In Mogadishu, Somalia, the most common treatment received in one of the major hospital is "wounds inflicted by weapons." Endemic violence hits everywhere and everyone with increasing risk for the most vulnerable parts of the population: women, children, sick, poor and the elderly. Moreover, they are also the ones who struggle most to receive the International Aid sent to Somalia. In fact, since the victory last week of Islamic fighters over United States-backed warlords, "aid organizations deem the city to be too dangerous for relief operations," the article explains.

Sudan: Fleeing War to Face Starvation (May 18, 2006)
When war and famine ravaged the South Sudan region in 1988, Deng, a male member of the Dinka tribe, fled to Darfur. He is now returning because of the unstable and dangerous situation there. On the road again, Deng knew they would face starvation. Empty handed, he is going back to South Sudan, a place that is no longer his home and that is struggling with famine. And the total absence of primary healthcare makes children and the elderly very vulnerable. "Large numbers of Dinka are returning to one of the most food-insecure areas of southern Sudan, just before the beginning of the hunger season," the article explains.

Ethiopia: How to Stop Violence against Girls and Women in Africa? (May 11, 2006)
Ethiopia will host a two-day international conference on how to help the international community stop violence against girls and women. The International Committee of the Red Cross, a participant in the conference, "recognizes that complex emergencies affect men, women, boys, girls and the elderly in different ways." The conference aims to raise international humanitarian laws to insure the protection of women of all ages.

Kenya: Cattle Rustling Puts Kenya's Pokot in Cross Hairs (May 12, 2006)
Raiding cattle from rival tribes has always been a tradition in the Pokot tribes in Kenya. This dangerous game, the article explains, changed over the years and has now become a form of modern warfare. Using mechanical weapons, the Pokot have killed more […?] in the last few years than in many decades when the elders ruled over the tradition. In recent years, young men have killed women, children and older persons.

Ethiopia: Pastoral Elders Give Firsthand Accounts of Their Suffering (May 2, 2006)
Elders from the pastoralist communities of Ethiopia asked United Nations Special Humanitarian Envoy Kjell Magne Bondevik to help them cope with the terrible drought that continues to crack down on the Horn of Africa. Due to the drought, pastoralist communities lost around 60% of their cattle. Elders hope the UN envoy's visit will have a positive impact on their living condition. "I promise that I will not forget you," answered Magne Bondevik.

Sudan: Preliminary Agreement Between the Sudanese Government and Darfur Rebel Factions to End the Conflict in the Region (May 1, 2006)
(Report in Arabic)
African Union (AU) mediators presented the preliminary agreement which aims at consolidating a durable peace in Darfur and reinforcing the humanitarian cease fire as well as other agreements that the government of Sudan, the Sudan Liberation Movement, and the Justice and Equality Movement already signed. While the Sudanese government accepted the document, the rebels rejected it. In accordance with international and regional treaties that the Sudanese government ratified, it must provide childcare, medical care for pregnant women and people with specific needs, as well as older people.

Ethiopia: Thata Buba 75 (April 26, 2006)
Thata's extended family relies on the few cattle he has left. He lost about 200 animals from the drought and the remaining ones are too weak to produce milk, the basis of the Borana pastoralists' diet. The lives of Thata's family depend upon international relief. Without it, Thata is afraid they will all die.

Sudan: Returning Home to an Uncertain Future (April 20, 2006)
Returning to their land and families the Bor Dinkas are happy to see southern Sudan, after many years of exile. Elderly, children and women were transported down the Nile by barge to let the men go faster of the shore. The International Organization for Migration assisted some 12,000 Bore Dinka. The displaced Dinkas who traveled with their cattle have a good chance to be integrated into their host community. On the other hand, the ones who don't have "their wealth" may be not easily accepted. NGOs fear instability, in a climate of an already fragile south Sudan.

Sudan: Refugees Flee One War Zone for Another (March 19, 2006)
Hawa Osman, an elderly woman, explains how she fled her village to survive a militia attack. She is now in a squatter camp in Darfur, Sudan, not officially recognized as a refugee. This scenario is common in Western Sudan; however, this time is different since Hawa Osman comes from Chad. Indeed, the militias that attacked her village were from Chad and armed by the Chadian government itself. Chadian refugees have been attacked and forced from their homes in the past four months "since insurgents attempted to oust President Idriss Deby by attacking the border town of Adre," the article explains. Ms. Osman says the soldiers were shouting "you are rebels" during the attack.

Somalia: Drought-Stricken Families Abandon Homes for Kismayo (March 14, 2006)
Extensive drought and famine conditions are putting over a thousand families at risk.As water becomes scarce and cattle die, families are forced to leave Southern Somalia to seek refuge in Kismayo. They have nothing left and the lives of the most vulnerable among them are especially threatened. The elderly, for instance, are the most likely to be left behind or literally abandoned in such drastic emergency situations.

Kenya: When Drought Turns to Famine (March 10, 2006)
The world is not paying attention to the slow disaster that is currently unfolding in Eastern Africa. Famine has replaced the drought and threatens millions. In Kenya, humanitarian organizations target older persons who are particularly at risk of deadly dehydration. Pastoralists and farmers in rural areas fine themselves in danger of starving.

Kenya: Livelihood Crisis as Drought Ravages Northeast (March 8, 2006)
This article claims that although children are the biggest concern of humanitarians, "adults are affected too." Indeed, ill adults, pregnant women and the elderly are as vulnerable as children. Pastoralist populations who live in remote areas cannot raise their voices to be heard. "More vulnerable people," as they are now called, are the ones most at risk and most likely to be forgotten by the international community.

Sudan: Rural Populations at Risk as Darfur Violence Escalates (March 9, 2006)
"Insecurity in Darfur is more widespread, more intense and more frequent on all fronts," Baba Gana Kingibe, head of the African Union Mission in Sudan, said. The situation is even worse for rural populations. Indeed, due to restricted movement, the remote populations of western Darfur don't have access to necessary basic health care. In addition, Sudan is also going through a terrible drought that threatens its already weakened population. Humanitarians fear vulnerable groups, including older persons, will pay the highest toll.

Sudan: Helping Reduce Women's Vulnerability (March 6, 2006)
During a meeting on violence against women in Kabkabiya town, North Darfur, participants cannot agree whether a person who gets pregnant after being raped should be charged with adultery. But women there all agree that gender based discrimination is a threat for the whole family. That's why they all think that female single heads of households should be recognized as the heads of their household and be able to have a [ration] card." We need to recognize that sometimes you have elderly women who are maybe taking care of orphaned children," one of them noted. When it comes to food distribution, the real head of the family should be considered, not systematically men.

Ethiopia: Response to Devastating Drought in Ethiopia (March 6, 2006)
Ethiopia loses nearly a million vulnerable persons due to preventable diseases including malaria, measles, neonatal deaths, pneumonia and diarrhea. Malnutrition accounts for over half of these deaths. In response to the drought in Ethiopia's Somali and Borena regions, International Medical Corps (IMC) has mobilized its resources to help nearly one million affected people. They will try to meet the critical nutritional needs of those with the most to lose - children, pregnant mothers and the elderly.

Kenya: Kenya Under the Most Severe Drought in the Last Ten Years (February 24, 2006)
(Article in French)
"The crisis in Kenya could turn into a great catastrophe if the international community doesn't react very shortly," said Kiell Magne Bondevik, Koffi Annan's special envoy for humanitarian questions in the Horn of Africa. The Kenyan drought could turn into severe starvation on a regional scale. However, this catastrophe could be avoided if the local authorities were to prevent the starvation from happening. But corruption and inflation have weakened Kenya and the surrounding countries preventing the governments from launching efficient policies.

Kenya: Return of Hope (February 14, 2006)
This article depicts the role of older persons in the HIV/Aids era through the story of a young Kenyan boy who lost both parents of the disease. In most cases, HIV/Aids orphans are taken care of by their grandparents. But the boy had none and would have had to quit school without the support of the "Gangre village," a small community of HIV/Aids widows who organized their survival and help orphans as well. Most of the women suffer from the disease but support each other and try to fight back against the usual ostracism that goes along with the disease.

Kenya: Caritas Kenya Seeks Emergency Funds to Feed Famine's Weakest Victims (February 8, 2006)
In Kenya, some areas in north and northeast, have gone without rainfall for two years now. The current crisis has now begun spiralling into a serious emergency. 3.5 million people are going hungry and need of emergency food aid. Among other organizations, Caritas Kenya helps the vulnerable populations there. As they have specific needs, the elderly need special care. That's why that programme targets severely malnourished children, women, and elderly, "in order to avoid any further loss of life," said Bishop Martin Kivuva, Chairman of Caritas Kenya.

Older People Can Help Tanzania Fight HIV/AIDS (February 7, 2006)
International data on HIV/AIDS infection rates does not include those older than fifty. Moreover there is little information on older people's needs and how they could contribute to the fight against HIV/AIDS. Older people caring for their dying children and orphaned grandchildren, especially those who are HIV-positive themselves, suffer from social isolation. Health workers don't visit them and they don't learn about protective measures such as wearing gloves when caring for their sick relatives. That's why the Tanzanian government has launched a National Ageing Policy that recognizes older people as a resource in development.

Sudan: First Group of Vulnerable Bor Dinkas Arrives Home to a Rapturous Welcome (February 7, 2006)
A first group of vulnerable Dinkas helped by IOM arrived in Bor on Sunday after an 18-hour long river journey. The group, consisting mostly of elderly and disabled, is the first of some 4,200 vulnerable internally displaced persons (IDPs) who will receive return assistance over the coming months. They are part of a group of some 12,000 Dinkas who fled Bor for Maridi, in Western Equatoria as many as 18 years ago to escape fighting between Sudanese government forces and the Sudan People's Liberation Army. Following the signing of the peace agreement on January 2005, the group decided to return on foot to their former homes via Juba, with up to half a million cattle, their prized possession.

Uganda: "When the Sun Sets, We Start to Worry..." (January 2006)
An elderly man explains: "This is a funny war. I cannot even describe it. The rebels are killing their own mothers. We are killing ourselves." In Uganda, civilians have been killed and mutilated. Thousands have been abducted, tortured and sexually abused. Many have been forced to commit atrocities or to look on, helpless, as others are beaten, raped or murdered. The elderly community is observing massacres, not comprehending the motivation that supports such actions.

Kenya: Drought Brings Starvation to North Kenya (December 23, 2005)
An elderly Kenyan woman must walk to a food distribution centre in Burmayo, Kenya. In the Mandera district, the people face starvation in one of the poorest and most arid areas wracked by drought. Vulnerable groups such as elderly and children are the first ones to die. Many of Mandera's pastoralist people are far from medical services. "We need the international community to bring more assistance," says the head of Action Against Hunger in Mandera.

Eritrea: Rural Eritreans Complain About Food Aid Cuts (October 29, 2005)
Elderly are increasingly complaining about the drastic food aid cuts that the Eritrean government made so as to not rely so heavily on foreign humanitarian assistance. Eritrea, one of the most food dependent countries that the United Nations provides for, needs food for about two-thirds of its population. This month Eritrea only allowed food for 72,000 people out of the previous number of 1.3 million in August. If this food aid cut continues, the people of Eritrea may have a serious problem on their hands.

Sudan: Despite Peace, People Still Wait for Help (October 10, 2005)
(Article in French)
In Sudan, the peace treaty didn't make the situation any better for the population. Indeed, in the summer, Sudan went through a food crisis. Only in October did the displaced population begin returning to a devastated Sudan. These people don't receive any help while the population that stayed during the conflict is barely surviving. Since the food arrived after the peace treaty, it means that the situation might get worse in the next few months. MSF has actively helped the population there and explains that without any help, the elderly would probably have died.

Sudan: Isolation in Darfur (July 2005)
Approximately two million people have been displaced in Darfur , Sudan . More than 700,000 are living in camps in West Darfur , of which about 10 per cent consist of the elderly. The crisis in Sudan has impacted older people whose traditional support systems have been removed. HelpAge International finds older people in camps "live in chronic poverty, feel neglected and are often isolated." Nearly 50 per cent of elderly in the camps live alone; some have lost their spouses and others have lost their children in the conflict. The disabled elderly also have problems seeking relief. Since July 2004, HelpAge International has continuously worked hard in West Darfur to provide older people the food and aid they need from humanitarian agencies.

Sudan-Darfur: UNHCR Mobile Teams Seek Out Vulnerable People in Darfur (May 25, 2005)
The international struggle for oil that lies beneath the Darfur region's landscape has pitted proxy combatants, the so-called Arab nomads against African tribes. As these proxies fight, the society's social structure erodes. Feeling threatened in rural villages, almost 2 million people have moved into slums on the outskirts of bigger cities. Now older people cannot pass on their traditions, wisdom and culture. Many elderly, unable to stand life in the slums, return to their abandoned villages facing a doubtful future and lonely existence. UNHCR now sends out "community services officers" who seek out older persons and other vulnerable groups in forsaken areas to arrange help for them.

Sudan-Darfur: Suffering Continues, Solutions Remain Distant (April 18, 2005)
Over the last two years, Sudan's Darfur region has become synonymous with the violence and fear caused by conflict. For now, solutions appear to be beyond the grasp of those involved, leaving people heavily dependent on the protection and assistance of humanitarian organizations. The ICRC's Nada Doumani visited Darfur in March and has written a personal account of the region's anguish. And no one talks of the underground rivalry between China and the Western Powers over the oil reserves in the ground beneath Darfur. It is this rivalry and the financing of the various fighting groups that keeps the fear and violence alive.

Sudan: Older People Are Neglected in Darfur, Warns HelpAge International (April 11, 2005)
Older people are often neglected in humanitarian food aid and health programmes
A health and nutrition assessment by HelpAge International, in five camps in West Darfur, found older people felt isolated and lonely because of food insecurity. When will world bodies adopt procedures and practices to insure that older persons have equal access to support in these terribly difficult situations?

Kenya: 28,000 Displaced Families to Be Resettled (March 27, 2005)
In spite of the peaceful state of mind of the elderly who decided the different clans could co-exist, the younger people don't feel the same about the rivalries between clans and started fighting. The elderly and children have already been displaced, most in the neighboring countries such as Somalia and Ethiopia. And who are the gun merchants that market these smoking guns? Who profits by these activities?

Sudan: U.N. Finds Crimes, Not Genocide in Darfur (February 1, 2005)
The United Nations Commission appointed by Secretary General Kofi Annan concluded that the civilian murders and the forced displacements in Darfur don't constitute a genocide. Nevertheless, this doesn't mean that it's less serious or condemnable. The responsible persons have to be sued for crimes against humanity and war crimes by the International Criminal Court. The Darfur Civil War killed 70,000 people and displaced 1.8 million people. And nothing is said about the international competition over the oil that lies in the ground-to the apparent detriment of the citizens who live there.

Sudan: Helping the Most Vulnerable People in Darfour (November 24, 2004)
(Article in French)
The people who have to flee their homes because of the war in Darfour need food, water and healthcare. Among them the elderly are the most at risks because they usually have no special care, while the children and the disabled do. That's why in a few towns, hundreds of older people stay alive, thanks to MSF or the Red Cross. Economists say both of these organizations will likely be needed in Darfour until the end of 2005. But both organizations actually plan to leave six months before that date. And the war continues.

Sudan: Fight for Survival in Sudan Killing Fields (November 15, 2004)
This Thursday, the UN Security Council meets in Nairobi in a move intended to pressure the Sudan government and southern rebels to sign a final peace deal which will end two decades of civil war. Meanwhile, the government militia attacked villages in Shilluk. Ninyang Kir died because she was too old to run away when military motorboat raked villages with gunfire from a river. Her family returned to find her burned body inside her grass hut. Oil lies below the ground in this area, fuelling much of the hidden competition among major nations seeking Sudan's riches but hiding their moves behind local players. And a grandmother gets burned alive in a grass hut because she was too infirm to run away.

Sudan Emergency: Older People's Voices (November 12, 2004)
This HelpAge International report demonstrates the harsh living conditions and problems of the elderly caught in the Sudan conflict. The accounts given by two women in their late 70s mirror problems typical of internally displaced people of their age group: they are too fragile to flee conflict zones and must rely on the generosity of neighbors for food supplies. One of the women Halima Ahmed Hissein, almost 80, says: "People help sometimes with what little they have. Without them I would have nothing and die."
Most elderly have lost their sons and daughters and are left alone to care for their grandchildren. All of them need special attention but aid organizations or assisting governments often ignore older civilians.

Kenya: Land Clashes Imminent (October 24, 2004)
Kenya elderly are trying to solve the potential armed conflict in their land. Cases of double allocation of land at Gachembe Settlement Scheme in Nakuru District could result in another round of land clashes. Six hundred people already armed themselves against another group that claims to be in possession of title deeds for the land.
Elders from the two warring communities resolved to bury the hatchet, help police arrest inciters and banned the carrying of offensive weapons. They petitioned the government to issue title deeds for demarcated land, saying this was a frequent source of conflict.

Sudan: Life and Death in Darfur (October 6, 2004)
Separated from her family and her home destroyed, Halima is just one of the thousands of elderly victims of the nightmare that has ravaged Sudan. Abandoned by her relatives she has to take care of her grandson by herself. Her village and home were destroyed in a battle and Halima lacks strength to build a new home because of her age.

Sudan: Geneva: Too Little, too Late for the Victims of Darfur (September 17, 2004)
The impact of the conflict in Darfur on the Sudanese population is overwhelming. As little distinction has been made between civilians and combatants, the elderly happen to be among the most vulnerable groups of the one million people who are facing the horrors of this war. Destruction of livelihoods means that they will continue to depend on outside help to survive. Both the International Red Cross and the Sudanese Red Crescent are trying to ease the suffering. So far, the world press has not looked at the underlying international competition over the oil that lies underground in the Darfur area and its responsibility for stoking the conflict. Should the Sudanese brace themselves for a major power invasion masked with a response to human tragedy?

Kenya: Elders Now Rally to Speaker's Defense ( September 14, 2004)
A group of Maasai elders decided that it was their place to intervene into the disagreement between House Speaker Francis ole Kaparo and Cabinet Minister William ole Ntimama. Apparently the House Speaker had urged Maasai to reclaim tribal lands that were given over to white ranchers at Independence decades ago. Left out of the process at that time, the Maasai now want these lands but are divided over methodology. In this article the elders argue that the government must take action.

Kenya: Kenya Repulses Land Grabs Akin to Those in Zimbabwe (September 5, 2004)
The land controversy around the 100th anniversary of an agreement reached between British colonialists and Masai elders turned into armed conflict in Kenya. Heavily armed police officers fired tear gas at the demonstrators who were marching to the British High Commission to highlight their rejection of colonial-era agreements that stripped them of their land. The Masai were carrying their traditional wooden staffs, knives and wooden clubs to fight with the well-equipped police forces. An elderly Masai man has died, shot during a confrontation with the police. The government officials justify themselves by the fact that Kenya's economy very much relies on Western assistance and uprooting the ranchers would be disastrous for it.

Sudan: Darfur Elders Say United States Demonises Sudan to Hurt Islam (August 28, 2004)
The bloody 18-month conflict between the two main rebel groups continues in the Sudan. In an attempt to mediate the problem, the Sudanese government sent 11 elders - tribal chiefs from the war-torn Sudanese region of Darfur -- to Nigeria as part of a delegation to the African Union peace talks. The chiefs criticized the United States for blaming Muslims for the conflict, saying that the superpower has tried to "demonise" Muslims. Information about the underlying international competition over Sudanese oil reserves not emerged in syndicated press reports.

Sudan: Life Gets Harder, as Violence Increases in Darfur (August 22, 2004)
It is difficult for a person fortunate enough to have never been affected by armed conflict to understand the magnitude and depth of human tragedies of the people victimized by violence. The Darfur crisis of a year and a half now has spoiled the relations between the Arab nomads and black African tribes, both earlier relatively peacefully co-residing in Sudan, for several generations. Suliman Hassid, the 87-year-old chief of Shiga Karo, blames Sudanese President Omar el-Bashir for emboldening Arab nomads and escalating long-standing tensions between them and the country's black African tribes.

Sudan: The Meaning of Suffering, From the Farms of Darfur (August 20, 2004)
The Darfur crisis of 18 months has brought about devastation and hundreds of thousands of civilian victims. The whole situation is especially difficult for the old people. In addition to the pain and fear shared by all who have been forced to flee their villages or seen family members killed or assaulted, the elderly carry the fear that they will never be able to return to their homes and land in their lifetime - that they will die in a foreign land. Khamis, a Masalit man in his 70s has lost all of his moveable and immoveable property in repeated assaults of the Arab militia. Now in a hospital in Chad, he is waiting for the recovery and sanity of his son Mohammed - the only one of his four sons still alive.

Sudan: Rain's a Curse for Sudan's Refugees (July 20, 2004)
The rains in Darfur, a city in western Sudan, are a curse in more ways than one. Muddy roads make it difficult for humanitarian aid to get through to the refugees. Heavy rains serve as a fertile ground for the outburst of infectious diseases and epidemics. One year-old Asha lies in a hospital covered in sores and lesions, her skin peeling. Her grandmother who is looking after the child says that their village was burnt to the ground by the Janjaweeds militia.

Sudan: Singers of Sudan Study War No More (July 12, 2004)
Now in her 70's, Ms. Fatimah Mohamed Sanusi, a traditional Sudanese singer, has sung about love, celebration, and mourning. Of late her songs on war have inspired the militias in the violent clashes in Darfur, west Sudan. After attending a special peace-building workshop, Ms. Sanusi is going to use her considerable power for peace and good. As both nationals and outside commercial interests compete viciously over the oil resources in the region, the news report focuses on old women who sing.

Sudan Refugees Too Scared to Bury Dead (July 6, 2004)
Many of the elderly Darfur Sudanese are unable to bury their family members for fear of repeated ambush from the Janjaweed militias. A lot of elderly die shortly after they reach the refugee camp and are presumably safe. They die from the fear of not dying in the foreign land.

Sudan: Violence, Food Crisis in Sudan Worsen as Militias Keep Hold (July 1, 2004)
The recent visit of the US Secretary of State Colin Powell has intensified the world media attention to the massive famine of Darfur Sudanese refugees, mostly the elderly, woman and children.

Sudan: UN Teams Visit Burnt Villages in Darfur Region of Sudan (April 29, 2004)
A United Nations humanitarian mission was sent in western Sudan , to face the situation of the civilians, facing Arab militias' attacks. The representatives of the UN World Food Program (WFP) met three elderly men in Bandago. They were the last persons remaining alive in that place. The Office for the Coordination of Humanitarian Affairs (OCHA) said the hospitals are in bad condition, and underlined the situations of civilians whose villages had been burnt.


Western Africa
(Benin, Burkina Faso, Cape Verde, Côte d'Ivoire, Gambia, Ghana, Guinea, Guinea Bissau, Liberia, Mali, Mauritania, Niger, Nigeria, Senegal, Sierra Leone, Togo)


Liberia: "I Begged Them Not to Rape Me" (May 18, 2006)
"They wanted to rape me. I had to go on my knees to beg them," one of the refugees from northern Liberia explains. Thousands of people who fled recent ethnic clashes decided to go home. But they faced possible exposure to violence on their way back and attacks by rival ethnic groups. Most are vulnerable people such as women, elderly and children particularly at risk, especially in this type of emergency situation.

DRC: Determined to Go Back Home: Elderly Congolese Return from South Sudan (May 9, 2006)
During the conflict in the Democratic Republic of Congo (DRC) that started in 1965, thousands of refugees fled to Sudan where they settled. Many of them now want to go back to DRC after living elsewhere for four decades. The Office of the United Nations of High Commissioner for Refugees (UNHCR) worries about the refugee's reintegration in a still unstable environment, especially because a great number of them are older persons. Indeed, because Congo's current political instability, UNHCR will not be able to assist the returnees as it usually does.


Togo: A Year On, Only a Handful of Refugees Have Returned (April 26, 2006)
25,000 people fled from Togo to Benin when political trouble arose about a year ago. Thousands still remain in east Benin, living in refugee camps. In spite of the Togo government's call for their return, most refugees are too scared to do so. While the United Nations High Commissioner for Refugees (UNHCR) is busy trying to keep the refugee camps livable, other organizations are trying to help displaced persons slowly return to Togo. The elderly are given micro credit to help them prepare for the trip home and "50 of them [already] opted to return since March with the backing of Togolese authorities," an UNHCR representative explains.

Niger: Niger's Women and Children Starve As Men Hoard Food (August 18, 2005)
Many men in Niger 's rural areas are taking control of the meager food supplies, in the midst of starvation and disease. There have even been reports of husbands locking away food from their children and wives. The problem is so acute that UNICEF and other international organizations have launched urgent projects focusing exclusively on women, so they can ensure that the children and the elderly receive the very minimum they need to survival.

Niger: Meagre Food for Babies First and Elderly Last, as Villages Empty of Life (August 4, 2005)
Niger, the second poorest country in the world, currently faces a large-scale food shortage. As the hunger crisis continues, aid agencies are focusing their limited resources on children and babies, who are deemed to be at the highest risk of death. The elderly victims of starvation, just after women, are finding themselves at the bottom of the list of priorities in the desperate circumstances.

Niger: Free Food Needed Now As Millions Teeter On the Brink of Famine, UN Says (July 14, 2005)
Niger is on the brink of facing a full-scale famine, as some 3.6 million people, including women, children, and elderly, are facing severe malnutrition, according to Jean Ziegler, the UN Special Rapporteur on the Right to Food. Free food must be handed out immediately to these people, or a humanitarian crisis will occur.

Côte d'Ivoire: War Takes Advantage Again (June 7, 2005)
(Article in French)
Interethnic fights in the west of the country, which has provoked tens of deaths, weakens the tough peace process engaged by President Gbagbo's and rebels' forces to apply the Pretoria agreement. One more time, the elderly suffer the consequences of a conflict that they did not instigate.

Liberia: Willing One's Way to Autonomy
Surviving the war in Liberia is one thing; being able to rebuild one's life is another. Musu took up market gardening, with the help of the International Red Cross and Red Crescent (ICRC), and can now make plans for her and her family. Fabienne Garaud, ICRC employee in Monrovia, tells her story.

Liberia: Ivoirian Refugees Left for Six Weeks Without Food (December 20, 2004)
6,000 refugees fled the Côte d'Ivoire for shelter in Liberia when people recently returned after the reprieve in the Civil War, according to Refugees International. Transport and administrative problems apparently prevented The United Nations High Commissioner for Refugees (UNHCR) and the World Food Program (WFP) from feeding the refugees. "A hungry man is an angry man," said a representative of the Liberian Red Cross. Bitterness has grown among the refugees who wonder if it wouldn't be better for them to try to return in Côte d'Ivoire to find food. They commented on the relief situation: "Why should they visit us but not bring us anything?" Easing the burden of refugees in turbulent political situations can be very difficult.

Ivory Coast: Human Rights Abuses Continue to Be Reported in the Ivory Coast (November 23, 2004)
The situation in Côte d'Ivoire is still unstable between the Government of Laurent Gbagbo and the rebels. The United Nations sent troops but summary executions, torture, rape, disappearances, arbitrary arrests and destruction of property continue to be reported by the United Nations mission even in the UN-patrolled Zone of Confidence (ZOC) separating the combatants. Civilians, especially women, children and older persons, try to flee to neighboring countries. But some of them can't leave and must stay behind. More than 10,000 Ivorians at this moment have left their country.

Ivory Coast: Liberian Refugees Return Home in Spite of the Last Attacks (November 22, 2004)
(Article in French)
Since 1989, the beginning of the Civil War, hundreds of thousands of Liberian people fled their country to find a refuge in the adjoining countries: Ivory Cost, Guinea and Sierra-Leone. "We had precarious conditions in these refugee camps and it was very hard to cope," says a young Liberian girl who is going to come back at home. Besides, many are separated from their family: "I have no news about my relatives. So I decided to return in Liberia to find them," explain a 58 year-old-man. Finally, the United Nations High Commissioner for Refugees organized the voluntary repatriation of the Liberian nationals to one of the peaceful counties. However, peace is not yet complete. And now other refugees already flow from the Ivory Cost to Liberia among other countries for the same reasons that Liberian people had fled to their neighbors.

Liberia: Liberia, Frail Refuge (November 18, 2004)
(Article in French)
Since November 4, 2004, thousands of people from the Ivory Cost fled the west of the country to find refuge in Liberia. More than 10,000 to have crossed the border to reach Butuo, a Liberian city, 3 kilometers from the border with Ivory Cost. These refugees, women, children and older persons, left everything behind them and live in an absolute destitution while various armed factions-with unknown funding and resources-continue to operate on the borders.

Liberia : Report on the Situation of the Elderly at the Fendell and Soul Clinic Internally Displaced Persons Camps (October 2004)


Marc Maxi , United Methodist Committee on Relief/NGO's Africa Region Director, reports on the conditions of the elderly in two camps for internally displaced persons on the outskirts of Liberia 's capital, Monrovia . More than 3,500 people between the ages of 60 and 98 need special assistance; 15 in the last six month have already died due to hunger and lack of medical care. Food rations are meager. In order to buy additional food supplies those who can still move around walk miles gathering palm branches to make brooms which they can sell. A 98 year old woman says, "If I can sell four of these brooms, I will buy one cup of rice and palm oil to eat today."


In addition, Maxi comments that the United Nations High Commissioner for Refugees gives preferential aid to heads of household rather than to single older persons, who are often left without cooking pans, footwear, soap and other basic necessities.