Europe & Central Asia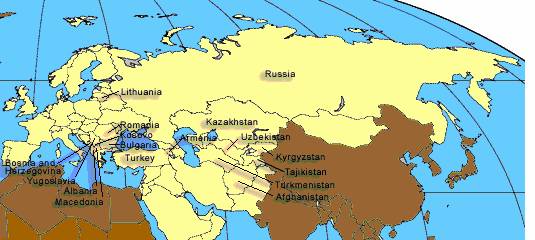 General Articles Europe Central Asia Afghanistan


Amnesty International Report 2005: Europe and Central Asia
During 2004, the human rights of ordinary men, women, children and older persons were disregarded or grossly abused in every corner of the globe. Economic interests, political hypocrisy and socially orchestrated discrimination continued to fan the flames of conflict around the world. The "war on terror" appeared more effective in eroding international human rights principles than in countering international "terrorism". The millions of women who suffered gender-based violence in the home, in the community or in war zones were largely ignored. The economic, social and cultural rights of marginalized communities were almost entirely neglected.
This Amnesty International Report, which covers 149 countries, highlights the failure of national governments and international organizations to deal with human rights violations, and calls for greater international accountability.
The report also acknowledges the opportunities for positive change that emerged in 2004, often spearheaded by human rights activists and civil society groups. Calls to reform the UN human rights machinery grew in strength, and there were vibrant campaigns to make corporations more accountable, strengthen international justice, control the arms trade and stop violence against women.
Whether in a high profile conflict or a forgotten crisis, Amnesty International campaigns for justice and freedom for all and seeks to galvanize public support to build a better world.
Greece: An 85 Year-old Tourist Was Found on Mt. Olympus after More than Two Days (October 27, 2010)
(Article in Russian)
The Greek police found an older man two and a half days after he lagged behind and lost his tour group. The search for the 37 year old French female continues since late September.
Russia: An Elderly Male Arrested in Moscow Suburb after Opening Fire on Street (September 28, 2010)
(Article in Russian)
The police arrested a retired lieutenant colonel of the internal reserve troops in the town of Balashikha in the Moscow region. According to the representative of the main internal affairs directorate, the drunken man opened fire after arguing with a passerby. The origins of the weapon are currently being investigated.
Russia: Rescuers Find Woman Lost in Primorye (September 23, 2010)
(Article in Russian)
An elderly woman, lost in the forest in Tsarevka Shkotovo Village, was found after about a day. The woman went for a walk with her husband, and due to bad weather conditions and fog the two lost each other. The man was able to find his way out of the forest, but didn't succeed in locating his wife that night. The next day, the search-and-rescue team, police, and relatives of the missing woman found her.
Ukraine: Law Enforcement Agents in Vinnytsia Saved a Man who was Trapped in a Swamp in the Middle of the Night (September 14, 2010)
(Article in Russian)
Two local military officers saved the life of a 66 year old elderly man, who at 3:00 am in the morning, got lost on his way home and entrapped in a swamp. Due to police's immediate response, the man was successfully pulled out and taken to a hospital. According to his doctors, had he arrived only an hour later, it would have been impossible to treat his hypothermia. The current state of the injured man's health is satisfactory.
Switzerland: An Elderly Swiss Gunman Assaulted Police Officers (September 10, 2010)
(Article in Russian)
After committing three shootings in a two day period, an elderly man from the Swiss town of Biel shot passers by and police officers and then fled. Despite the efforts of law enforcement, the search for the gunman continues. The motive behind the shooting is not known, but is linked to the repossession of his house due to massive debt. The current number of victims is not yet reported.
Turkey: Experts Warn as High Temperatures Cause Heatwave in Istanbul, Turkey (August 6, 2010)
Experts have warned children, old people and those with health problems about the risks of the heatwave. The warmest day in early August saw temperatures rising to 107.6 degrees Fahrenheit, prompting warnings by health officials. They also advised older persons not to fast during Ramadan should the hot weather continue.
Spain: Elderly Refugees, Fragility and Wisdom (June 14, 2010)
(Article in Spanish)
The Spanish Committee of the High Commissioner for Refugees (UNHCR) has organized a photo exhibition in Madrid dedicated to elder refugees, one of the most vulnerable and forgotten groups. About 8.4% of 40 million people displaced by conflicts around the world are elders. The exhibition also demonstrates the valuable contributions that old people make to their own communities as transmitters of culture, history, traditions and values.
Romania: Cold Wave in Eastern and Southeast Europe; About Forty People Dead (January 25, 2010)
(Article in French)
Because of the cold spell that is freezing Eastern and Southeast Europe, around 40 people died in Romania, Poland, Bulgaria and Turkey. The temperatures dropped down to minus 31° F (- 35° C). Most victims were elderly homeless persons. The governments of these countries are now looking for the homeless to take them into hospitals or shelters.
Greece: After the Flames, Elderly Greeks Wonder What's Left (August 29, 2007)
Because of the raging wild fires in Greece, older persons were evacuated from villages that many of them have never left. The evacuation happened so fast, that some, like Dimitra Agrida, an 85-year-old widow, didn't even have time to put on shoes. However, those evacuated consider themselves lucky. More than 63 people have already died in the fire. Says Iannoula Iannopoulos, 77, "there are just 30 people living there and we are all old. What could we do against the flames?"
Chechnya: The Life Behind the Facade in Grozny (July 6, 2007)
(Article in Russian)
The author of this article, who has recently visited Chechnya, writes that the war nearly destroyed the healthcare system and left "scars on the bodies and souls of almost everyone." The most vulnerable group were ethnic Russians who have lived in Grozny all their lives. Unlike Chechen families taking care of their elderly, the Russians abandoned their old when the war broke out. Currently, apart from a few volunteers, no one looks after the elderly Russians in Chechnya.
Croatia: Serb Leader Jailed for War Crimes (June 12, 2007)
The international war crimes tribunal in The Hague has sentenced a former Serb rebel leader to 35 years in jail for atrocities carried out in Croatia. Judge Bakone Moloto said Milan Martic, 52, had committed crimes against "elderly people, persons held in detention and civilians," victims whose "special vulnerability" added to the gravity of the offenses.
Russia: Moscow Muslims Call for New Mosques for Chechen Refugees (June 15, 2007)
(Article in Russian)
Moscow authorities are discussing projects to build two new mosques in the Russian capital. Moscow's existing mosques get especially crowded during Friday prayer due to the large number of Muslims living in the city. Moreover, the elderly find it hard to travel from the city outskirts, the Mufti Council press secretary pointed out. The authorities are planning to build the mosques in the new residential areas, enabling easier access. One of the mosques will be named after Akhmat Kadyrov, Chechnya's assassinated first president.
Russia: Cannes Film Festival from Russia Focuses on Chechnya (May 25, 2007)
(Article in Russian)
A new film of Russian director Alexander Sokurov focuses on the Chechen war. Opera singer Galina Vishnevskaya plays an older woman who comes to Chechnya to visit her grandson, a 26-year-old captain. Outside the military camp she meets a Chechen woman Malika and together they seek answers to the questions of how the war started and why it has continued for so long. Some of the strongest aspects of the film are its powerful dialogues. "My body has aged, but my soul could live another life," the main character says at the end of the film.
Russia, North Ossetia: Refugees on a Hunger Strike (July 12, 2006)
(Article in Russian)
For 14 years refugees affected by the armed conflict in North Ossetia and Ingushetia, primarily children, women and older people, have been living in a refugee camp on the border of North Ossetia. Desperate for help, they have started a hunger strike, asking Russian authorities to approve their homecoming. During the conflict with Ingushetia in 1992, many Ossetins had to leave the territories in question. Eager to return, they are asking for protection under the Federal Constitution because both republics are formally part of the Russian Federation.
Ukraine: Aging Chernobyl Survivors Share Memories (May 20, 2006)
(Article in French)
The authorities seem to have forgotten them. Hundreds of senior citizens living in the exclusion zone lost family and friends in the nuclear accident. Today, they suffer from cancer and diseases related to the exposure, but also mental afflictions such as depression and sense of loss. Despite the food deliveries they receive, they feel that the world has forgotten them. A few of them share in this article their memories on the 20th anniversary of the Chernobyl accident.

Ukraine: Living in Chernobyl "Radioactivity? That's Nonsense!" (April 26, 2006)
Twenty years after the nuclear reactor exploded in Chernobyl and her village was evacuated, Hanna Semenenko, 80, is one of the stubborn pensioners who refused to leave the irradiated villages of the area against government orders. Despite her disobedience, the government continues to send her small pension to her illegal house. Hanna explains that she used to be better off "when the Soviet Union still existed." This paradoxical situation is becoming a well known fact, not only in the devastated area around Chernobyl.

Armenia: Caring For Elderly Refugees in Armenia (March 2006)
When refugees arrived in Armenia many years ago, they didn't expect to grow old in Armenia. Now they are facing isolation and want to join their families. That's why the Armenian Red Cross created a psycho-social support program for elderly refugees. Volunteers keep the elderly company and help them cope with their feeling of loneliness. "It fills our hearts with warmth," says one of the old refugees.

Crimea : The Tatar People Back in Crimea as Promised (March 8, 2006)
(Article in French)
The story of Leman's father reflects thousands of other Tatars' stories. The Tatar people used to live in Crimea before Stalin sent them into exile in 1942. Most never got a chance to see their home country again. Many died in host countries. Some Tatars have scattered throughout the world but most can be found in Uzbekistan and Ukraine. Recently, 250,000 exiled Tatars, many of whom were older persons, decided to return to Crimea. The younger generations, however, refused to join their elders on the journey.

Kosovo: Winter Assistance (February 23, 2006)
A severe winter with heavy snowfalls, especially in the remote mountain areas, now affects many households in Kosovo. During winter, a large number of people are cut-off from the outside world for weeks. At risk are older persons living alone - with limited food and non-food supplies, poor living conditions and the inability to keep warm. Since many younger family members do not look after the older ones, the elderly become more vulnerable during the winter. That's why the International Committee of the Red Cross and the Red Crescent are organizing help for the elderly people in Kosovo. These organizations provide the elderly with wood stoves and wood for heating, food and medical assistance.
France: 50 Districts Face Emergency for the Severe Cold (January 25, 2006)
(Article in French)
The polar cold first felt in Russia has spread to Europe and is now reaching Germany and Austria. In France, authorities say that public assistance won't suffice and non governmental organizations will quickly be overwhelmed. Yesterday the French government launched an emergency policy for the winter that had already reached level 2. The 3rd level is for "extreme cold." The older homeless are usually the most exposed because they think they are acclimated to cold weather. That's why the government appealed to all people to call 115 whenever they see a homeless person after 7pm.

Russia: There Are 23 Officially Missing People in Chechnya Since the Beginning of 2005 Year, Chechen Official say Federal Agents Federal Security Service (FSB) Are Involved (June 6, 2005)
(Article in Russian)
During the first 5 months of 2005 there have been 23 officially missing people in The Chechen Republic. The President of the Chechen Republic, Alu Alhanov, said that Federal agents are involved in 5-10 % of all cases involving missing people. He says that this form of crime has decreased substantially. In comparison to the January-June period of last year, the figures have changed from 168 missing people to 23 this year. The paper states that the North Caucasus division of Federal Security Services (FSB) is to blame for kidnapping of people in the region. In the month of January alone, four civilians have been arrested. Their families, mostly elderly relatives, thought they were missing but learned that their loved ones had been arrested. Detained in a subdivision of the FSB, the kidnapped have not yet been found in a jail. Relatives of the kidnapped civilians continue to search for them.

Kosovo: A Sacrificed Generation (May 2, 2005)
(Article in French)
Marek A Nowicki, the human rights watch ambassador in Kosovo, explains in Le Courrier des Balkans that he himself is experimenting with the political transition. But the transition is difficult for people who can't afford to wait for a stable government to settle in. Indeed, what is called a "pension" in Kosovo is about $40 per month, not enough to buy food, let alone pay for all the needs of older people. As a matter of fact, if the retired population mostly survives in Kosovo, it is mainly because of the solidarity among the community of older persons.
Bosnia: Bosnian Commander on Trial (January 31, 2005)
Bosnian commander Sefer Halilovic went on trial for murder at the UN Yugoslav war crimes tribunal Monday for the killings of dozens of Croat civilians during the war in Bosnia. Halilovic's men murdered the most vulnerable persons, elderly and children. In the village of Uzdol, soldiers killed several elderly people who were fleeing the fighting. Halilovic could be sentenced to life in prison.

Spain: Spain Awards Pensions to Civil War Child Exiles (January 21, 2005)
They are called the "war children," the 3,000 children sent to the former Soviet Union and hundreds to Latin America because their parents were supposed to be Republicans during the Civil War from 1936 to 1939. Today, some have died and the others are in their 70's or 80's. The Spanish government recognized January 21st, 2005, the exiles of the Civil War by granting pensions of $7,912 a year and providing health care. As the French say, "Late is better than never."
Bosnia-Herzegovina: Families Provide Important Clues in Search For the Missing (December 2004)
The ICRC and its partners in Bosnia-Herzegovina have recently contacted over 12,000 families who still have relatives missing as a result of the war that ended nearly 10 years ago. The information collected during these meetings might end years of uncertainty for families like the elderly Camos. Osman and Mejra Camo were waiting for taking a dinner at home with their 28-year-old son an evening of May 1993 when they saw, on a TV channel controlled by the opposition side, their son arrested by the enemy army. They have never seen him anymore, either news on him. In spite of their hope to find him alive and wealthy, they know that their son's body is certainly in the thousands of unidentified mortal remains found.

Russia-North Ossetia: Beslan Families United in Grief (October 14, 2004)
Zoya and her invalid, elderly husband who is confined to his bed are among many Ingush people who live in old converted railway carriages. They still hope to return to their homes in North Ossetia. But it is the Ingush who are now being blamed for the Beslan tragedy because some Ingush men were part of the gang that seized School Number One. Now the Ingush may be a target for any who seek revenge.
Russia: In Caucasus, Frozen Conflicts Are Still Hot (September 13, 2004)
Disputes stoked after the Soviet breakup continue to wreak misery and instability years later. More than 1 million people are living in the conditions of frozen ethnic and land conflicts across the territory of the former Soviet Union On a path that connects Caspian oil supplies to oil hungry Western Europe and US users along the border areas with Russia, the frozen conflicts mask international intrigue over natural resources. . Tusya Galoyeva, a 64-year-old native of the South Ossetian village of Gory, who fled to Gizel ("the temporary place") during the war in 1991 still misses her beautiful, three-story house. Does Tusya know that the leadership of powerful countries who struggle over scarce oil energy resources have no interest in her desire for happiness?

Kosovo: "Serbians in Kosovo Live Like in Jail" (October 25, 2004)
(Article in French)
The end of the war with Kosovo didn't mean the end of hostilities in the former Yugoslavia. Minorities face threats in every part of the former Yugoslavia. In Kosovo, the Serbian enclaves are often burned and their possessions stolen. Inhabitants have to flee the villages leaving everything behind them. Most of the villagers are older or middle-age persons who derive their livelihood from agriculture. They could not afford to move out or go somewhere else. In spite of the reconstruction aid and the protection from Kfor's soldiers, the situation is unbearable. "It is my house, but not really," said Milica Pantic, 75 years-old, "everything was burned, I have no souvenirs anymore." Hope brought by the end of the war has disappeared and people don't believe any longer in a democratic solution: "It has been 50 years that I vote," says Milica, "and the situation is getting worse and worse."

Italy: German, Italians Mark Nazi Massacre (August 12, 2004)
Today's Germany continues to pay tribute to the memories of innocent people killed during the Nazi massacre in many countries of the world. The German Interior Minister Otto Schilly who visited Italy to take part in commemoration, called the Tuscan village a "place of shame" for his nation. In August, 1944, Nazi SS soldiers surrounded the village in search for partisans. What they did instead was killing of 560 innocent civilians, mainly elderly, women and children. 66 year-old Enio Manici is one of the survivors of the massacre. He was only 6 years old then.

Spain: Small Bombs Rattle Northern Spain Cities (August 12, 2004)
Small bombs rattled two tourist cities in Spain leaving hundreds of people in panic and slightly injuring an elderly man. Bomb explosions during the peak of tourist season are characteristic of Basque separatist group ETA, which has sacrificed over 800 people since the start of its campaign for independence in 1968.

Poland: Schroeder Bows to Warsaw Anti - Nazi Heroes (August 1, 2004)
German Chancellor Gerhard Schroeder paid tribute to hundreds of thousands of Poles, mainly Jews, killed in a failed rebellion against Nazi forces 60 years ago, thus making a landmark gesture of reconciliation toward a new EU partner. He bowed twice in front of the monument to the insurrection under the gaze of now elderly Polish survivors.

Croatia: UN Court Sentences Former Croatian Serb Leader to 13 Years in Prison (June 29, 2004)
The UN court reached a verdict on former Croatian Serb leader guilty in deaths of more than 25,000 people, including women and elderly, during the Croatian war of 1991-1995.
Kosovo: Displaced Lives (March 14, 2003)
(Article in French)
In 1999, thousands of Serbians and Roma fled from Kosovo to seek asylum in Serbia and Montenegro. Today, less than 2% have returned to Kosovo and many internally displaced still endure very hard lives. The International Committee of the Red Cross is worried about what will happen to these internally displaced older persons after the Red Cross leaves the country. That's why the Red Cross urges governments to take care of the elderly, from a legal, as well as from a humanitarian point of view. But the States may not consider the older persons as a major issue.

Bosnia-Herzegovina: Bosnia Slowly Mends (December 11, 2000)
Five years after the 1995 Dayton peace accord, which ended the conflict in former Yugoslavia, many refugees, including old people, still do not have a home. Hajra Mandzic is in her 90s. She lost three sons, three grandsons, three brothers, and nine nephews at Srebrenica. Now, she is determined to spend the cold winter in a tent on the hillside where she used to live. Husein Burazerovi is in his late 60s. He is one of a few dozen Muslims living in tents on the site where thirteen homes are being rebuilt with the help of the Catholic Relief Services (CRS), a humanitarian organization.

Kosovo/Kosova: As Seen, As Told - Elderly, Disabled (1999)
The conflict between the Yugoslav and Serbian forces and Kosovo Liberation Army took a particularly heavy toll on elderly civilians. Chapter 18 of the Organization for Security and Co-operation in Europe's (OSCE) Kosovo Verification Mission report focuses on the frequent abuse, abductions, and murders of elderly people.
Travesties in the Balkans: A Serb's Tale (October 1, 1999)
In this featured article in the University of Waterloo newspaper, a young Serb man recounts some of the horrific atrocities he and his family witnessed in the Balkans. Aleksandra Prodanovic's grandmother survived an attack by Kosovo Albanians that killed almost all of the other elderly Serb people in her village; his friend's grandmother was beaten and left for dead in the street just because she spoke Serbian.
Tragedy of the Elderly in Kosovo (May 6, 1999)
Elderly refugees suffer greatly from lack of access to health care due to the crisis in Kosovo. Many had to flee without sufficient food and often without family support. A woman who has seen over a 100 years of Kosovar history says, "I lived through the Nazis but I've never known anything as bad as this."
War in the Balkans - 'Slaves' Forced to Bury Victims (April 18, 1999)
Former British Foreign Secretary Robin Cook released a dossier in 1999 documenting 87 war crimes committed between March 25 and April 14 in Kosovo. Among the atrocities were the murders of 18 elderly people in the village of Burim.

Europe: Sixty Years On: Tracing Victims of the Second World War (April 2005)
Every year, the ICRC and National Red Cross and Red Crescent Societies receive tens of thousands of tracing requests relating to the Second World War. The work of the ICRC and Red Cross/Red Crescent tracing officers still reunites families torn apart during the six-year conflict. Here is a story of a brother and a sister that the war separated but who have been reunited by the ICRC 60 years later when both had reached old age.
Eighteen Civilians Massacred in Kosovo Forest (September 29, 1998)
This Human Rights Watch press release documents the heavy civilian casualties of the war in Kosovo, including an elderly woman and two elderly men shot dead at close range in one village.
At Least 46 Albanians Killed in Kosovo Fighting (March 10, 1998)
The war in Kosovo took the lives of women, children, and elderly civilians on all sides of the conflict. This Washington Post article reports that 24 ethnic Albanian villagers, including six elderly men, died after a three-day assault by government forces.
Kyrgyzstan: New Tensions in Southern Kyrgyzstan, Instigators Are Being Tracked Down (June 21, 2010)
(Article in Arabic)
Kyrgyz security forces are hunting those responsible for the bloody ethnic clashes between the Kyrgyz and the Uzbek minority during the past two weeks, causing new violence and tensions in this small country in poor and troubled Central Asia. Tolekam Ismailova, the Kyrgyz Human Rights Defender and Director of Human Rights Center/Citizens against Corruption (CAC), said that people are in a panic; no one expected such a development. Soldiers are victimizing and beating older persons and reportedly kidnapping young men.

Georgia: Fighting Continues In South Ossetia (August 17, 2004)
It has been several days now since Georgian peacekeepers and South Ossetian militants are exchanging intensive fire that has resulted in casualties from both sides. Since early 1990s South Ossetia has been a breakaway region of Georgia. The new President of Georgia who already has a success story of another breakaway region has vowed to bring South Ossetia, historically part of Georgia, under central authority. Most of the children of both Georgian and Ossetian origin have already been evacuated from the conflict zone. Old people have stayed to live in fear.

Chechnya: Kremlin Choice Wins in Chechnya Election (August 30, 2004)
August 29 was an important day in the history Chechnya, the rebel Southern region of Russia. On that day Chechens voted in a tense election for a successor to the
assassinated president in a tense election. The voters, with a high representation of older persons, turned out despite of security threats and lack of a real choice. All signs pointed to victory for the Kremlin-backed candidate, Maj. Gen. Alu Alkhanov, but many doubt that he will manage to stamp out rebellion in this turbulent region. However, the elderly voters said they are voting for the hope for peace.
Uzbekistan: Dad of 4 Alleged Uzbek Terrorists Worried (August 3, 2004)
Several days ago suicide bombers struck the U.S. and Israeli Embassies along with the top Prosecutor's Office in nearly simultaneous attacks in the capital of Uzbekistan, Former Soviet Union Republic and a close U.S. ally in the war on terror. Two of 64 year-old Qasym Yosupov's sons are dead and two on jail all accused of being key members of the extremist group behind the attacks. With claims of torture and hiding prisoners from the International Red Cross, it's difficult to know whether to believe the "confessions."

Georgia: Tragedy of a One-handed Elderly Hero: "I Often Share the Alms with the People that Need it More Than I Do" (June 24, 2004)
The elderly beggar who lost his right hand in the war ten years ago has not lost his humanity and compassion toward people. He shares the alms with other needy people and speaks about his tragic life.

Chechnya: Guerrilla Raids Force Chechen Refugees to Flee Again (June 28, 2004)
The recent terrorist attack in Ingushetia, south of Russia where the majority of Chechen refugees reside, was followed by their recurrent exodus. These refugees, mostly elderly and children, were of accused of collision with the Chechen terrorists.

Chechnya: In a Ruined City (June 1, 2004)
Read about regrettable plight of the elderly in the capital city of Grozny, Chechnya, Russia. The biggest challenge these people face is to survive both socially and physically and on their own. To earn money for food, they sell bricks from the ruins at three cents each.

Interview with Babak Abbaszadeh, Médecins Sans Frontières Medical Doctor in Abkhazia, Georgia (April 2, 2004)
Babak Abbaszadeh, a Medical Doctor graduated from Teheran Azad Medical University spent six months in Georgia and seven months in Abkhasia with Médecins sans Frontières, France. His mission was to give primary health care to women, children and old people in need, due to the conflict situation in the region.

Interview with Henry Debussmann, Médecins Sans Frontières (MSF) volunteer to Abkhazia, Georgia, with GAA intern Eka Paresashvili (March 5, 2004)
From September 2003 until March 2004, Henry Debusmann, a Médecins sans Frontières volunteer, worked as logistician in Abkhasia, a formerly autonomous republic under the Soviet Union and now one of the lingering troubled areas in the Region. Henry's work supported the activities of the Doctors without Borders health personnel who have provided primary health care since 1999.
Translation of the Article Written by Gocha Bakhia Posted on the Web Site - Independent Web Edition ECHO (February 20, 2004 )
Three thousand street vendors, many of them elderly Internally Displaced Persons from Abkhazia (the conflict zone in the northwest of the Republic of Georgia), protested in front of the State Chancellery of Georgia.

Abkhazia: The Elderly in the Shadow of the Ban (June 16, 2003)
(Article in French)
Abkhazia is a small part of Caucasian land that borders Russia, the Black Sea and Georgia. No State has recognized Abkhazia. As a matter of fact, Abkhazia was at war with Georgia for ten years. Now, all the surrounding States are trying to pressure Abkhazia with an economic ban that leaves the small country without economic resources. Since 1993, MSF (Medecins sans Frontieres) has supported a program to care for older persons. Today, the International Committee of the Red Cross and MSF are the primary means for the elderly in Abkhazia to get food and healthcare.

Chechnya: At Least 20 People Killed in a Bomb Blast in Chechnya (May 14, 2003)
A female terrorist blew herself up in a crowd of people gathered for a religious celebration in Chechnya's capital city - Grozny. Most of the victims were elderly.
Chechnya: Everyday Life in Chechnya: University Professor Beaten, his Sons Abducted (March 18, 2003)
While President Putin gives a rosy picture of the situation in Chechnya, federal troops continue to take Chechen men hostage. At 2 am., Russian soldiers burst into Umalt Ezhayev's house, a war veteran and professor in pedagogics who received the title of Honored Teacher of the Russian Federation. After the elderly men asked them what was the purpose of their visit, the soldiers beat him seriously up until he was unconscious. They took away his two sons and there is very little hope that Mr. Ezhayev will ever see them again.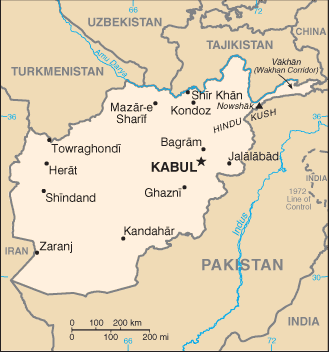 Virtually no Safety Net for War Victims' Families (October 20, 2009)
Afghanistan has the highest population of widows and orphans in Asia, according to government officials. Unfortunately, even with so many victims of war, Afghanistan does not have a law in place to deal with the hundreds of thousands of war widows, orphans and disabled people requiring care.
Tribal Elders Reopening Southern Schools (November 7, 2006)
In Afghanistan over the past 12 months, educational institutions have been the target of attacks by insurgents. Due to fear of these attacks, many schools were closed in Southern Afghanistan. To tackle this dire situation, a partnership between local tribal elders and the government has led to reopening at least 20 schools during the past two weeks. According to Aleem Siddique, spokesman for United Nations Assistance Mission in Afghanistan (UNAMA), "this underlines the vital involvement of the tribal elders and community leaders in helping to deliver real progress for Afghan people."

Scores of Civilians Killed in Air Strikes, Say Officials and Elders (October 26, 2006)


According to officials and local tribal elders, dozens of civilians have been killed during the conduct of military operations in Afghanistan last Tuesday. The situation is still very grave and innocents are still dying. Note that elders play a major role by testifying about this unacceptable situation. Four years ago when the war ended, many people hoped for a transition to a peaceful future. Now disillusionment mounts.

UK Charity Warns of Afghan Famine (September 10, 2006)
According to a Christian Aid survey of 66 Afghan villages, many farmers have lost all their produce due to a drought in the north and west of the country. Millions of people could face starvation. The UK's Department for International Development (DFID) said the report "paints a more serious picture than reports to date from the UN, although it highlights the same parts of the country." The survey indicates that the ones most at "risk from starvation are children, pregnant women, landless families and the elderly."
Fighting Forces 3,000 to Flee (May 25, 2006)
Afghanistan still hasn't recovered from three decades of civil war. In some of the fiercest fighting between the Taliban and security forces in Kandahar, dozens of civilians lost their lives and over 3,000 had to flee their villages. "Regrettably, many people, including children, women and elderly men, have been killed or injured during US and government operations in Panjwayi district, which is an obvious violation of human rights," the Afghan Independent Human Rights Commission (AIHRC) said in a statement released Wednesday in Kabul.

US Military Fight Back Taliban; Bombings Leave 80 Victims Among Whom Villagers Rushing to Hospitals (May 23, 2006)
(Article in Arabic)
US military forces replied to Taliban attacks by air bombing Taliban headquarters in south Afghanistan, killing 80 people, among them at least 16 civilians. Afghan authorities declared that the operations launched in south Afghanistan are the most violent since the fall of the Taliban regime at the end of 2001. According to reports, civilian cars transported many injured villagers to Kandahar hospitals. Ata Muhammad, an older man staying at one of them, said that 24 members of his family were killed in the bombings.

For Returning Afghans, Short-Term Employment Can Have Long-Term Benefits (January 4, 2006)
After the fall of the Taliban four years ago, returning Afghan refugees to their homeland constitutes one of the largest organized movements of people in the world. But for the returnees, the journey to their country is very often followed by another journey to the cities to find work. In most rural villages, the population is largely over 50 years old as the younger men leave to find the income that will support their families. Aware of these difficulties, the UN refugee agency funds a number of programs designed to reintegrate older workers into their former communities. For example, with training older persons can repair badly eroded roads and take on other tasks to make the rural areas more accessible.

Police Accuse Taliban of Killing 15 People Including 9 Elderly (July 2, 2005)
(Article in Arabic)
Officials declared that members of the Taliban killed nine older villagers living in Landar, two policemen and two other civilians in a wave of violent attacks in south Afghanistan. The killing operations were part of a campaign of massive attacks that fighters launched before the parliamentary elections of September 18, 2005.

A Nation Plagued by Poverty (September 29, 2004)
Poor economic conditions are second only to security among the concerns of the Afghan people. Since the end of the Afghan War, the country seems to go through a transition period which could be dangerous for this young "democracy" and its people. Agricultural areas, Afghanistan's main work resource, are destroyed by the lack of irrigation systems, and the lack of infrastructure. Therefore, old people, who can't sell their labor, don't have enough food and find it increasingly difficult to reach hospitals.

90 Percent of Afghan Electorate Registered for October Vote (August 2, 2004)
Nine out of 10 eligible Afghans have already signed up for forthcoming landmark October elections. Women, elderly and ethnic minorities are strongly represented among those registered for the first-ever direct vote for president. The elderly Afghans who witnessed enough chaos and bloodshed in the past, are now more hopeful than ever.

Afghan Bombing Death Toll Rises to Six (July 12, 2004)
Afghanistan: An unknown bomber set off an explosion in Herat, a western Afghan city, severely wounding an elderly man who later died. The continuing instability, even in the cities, shows how little respect the installed government merits from the citizenry. The response? A tougher approach to win disarmament.

Elderly Workers try to Revive Kabul Factory (April 11, 2004)
In Afghanistan, workers decided to go back to work at the Jangalak Factory in Kabul. The huge factory produced wood products but a generation of war ruined it. Today, 200 long-time workers try to revive the place. Many of them are 50, or even 60, and were employees at the factory for years. Even if they haven't been paid for three months, their will and strength make them move forward. They want their factory to be reborn and they face many challenges. They are a great example of strong, courageous people who want to rebuild the industrial base to support themselves and their country.

Afghan War Criminals Still Unpunished (March 29, 2004)
This March 2004 report from Kabul conveys the frustration some Afghan citizens feel about a history of human rights abuses that have been ignored during the past 23 years. Due to the instability of the governing bodies and the shifting alliances among the population and their foreign backers, it is improbable that any impartial action is possible in the near term.
Karzai Tackles Ethnic Issues Head On (January 8, 2004)
In a speech to the closing session of the Loya Jirga (Grand Council) on January 4, Afghan President Hamid Karzai expresses his desire to see ethnic tolerance, respect, and cooperation in Afghanistan, as well as rule of law and political process. Many times in his speech, Karzai highlights the wisdom and guidance of Afghan elders, and pledges to build a more just and equitable society for them.
Violence Claims Nine More Lives (January 8, 2004)
In the eastern Afghan city of Jalalabad, an elderly man lying in his bed was killed when shrapnel from a bomb that exploded near a US military base crashed through his roof.

Older Afghans 'Could Suffer Most' (December 10, 2001)
According to Help Age International "Ageing and development" newsletter, from December 10, 2001, the International Federation of Red Cross and Red Crescent Societies (IFRC) has warned that older Afghans, both inside and outside their country, could suffer most in the crisis engulfing the region.
Red Cross Makes Special Case for the Elderly (October 2, 2001)
As war looms, the vulnerability of older Afghans to displacement and harsh winter conditions gives rise to concern. This article describes the work of the Red Cross to ensure that older persons will have access to aid and support services, and that they can play their traditional role in helping the community cope with displacement.